In the US, the offshore wind industry is heavily regulated — not just at the federal and state levels, but also by local communities where power transmission infrastructure will make landfall. At this lowest level of government, success rests more on winning support from local communities than on hiring lobbyists.
Yes, it might help to hire the brother of a town councilman to talk privately to other members of the council. But if 150 angry local residents crowd a town meeting to denounce an offshore wind farm, that project faces a potentially fatal bottleneck.
For offshore wind, community engagement matters not just for project permitting but also for building local support that translates to real clout with state and federal policy makers in the years ahead.
However, the growing need for successful community engagement is clashing with the increasing sophistication and professionalisation of Nimby (Not In My Backyard) opposition. Nimby groups are now killing onshore wind projects, pressuring local towns to ban Pace (property assessed clean energy) lending for residential PV installations and threatening utility-scale solar efforts.
Different Nimby groups connect online and increasingly get support by skilled organisers and professional critics.
At a minimum, that means offshore wind developers should plan for bigger budgets and staff to successfully engage local communities. At worst, it means that project fatality rates are going to rise.
That said, the offshore wind sector has a unique pair of advantages over other clean economy sectors. First, even at its early stage here in the US, its ranks are filled with mature, big-pocketed companies such as Ørsted, Equinor and Avangrid.
Second, other clean economy sectors — solar, wind, Pace financing, homesharing, and micromobility — have hard-won lessons for successfully engaging communities.
To most effectively adapt those lessons to offshore wind's needs, it's important to distinguish between a new sector and a new industry. Google was the dominant player in a new industry — online search. Yes, it had disruptive effects on a variety of industries, but there weren't several mature search engine companies that were ready to block Google's growth.
Offshore wind is a new sector within an energy industry that's dominated by long-term incumbents. It's also a new sector vying for access to offshore areas that the fishing industry jealously guards.
What's the difference? Being a new sector requires a much greater commitment to public affairs and external communications right from the start in order to forge a place within an established industry.
The intersection of those two trends — increasing importance of community engagement, and greater sophistication of Nimby resistance — is taking place while it is still in a vulnerable position of being a long-term disruptive threat to incumbent sectors.
Those incumbents have the budgets, bandwidth and experience to use government and propaganda – including front groups – to push back against clean economy sectors that threaten to disrupt them.
Yet the disruptors have not invested in their public communications at scale at nearly the level needed to meet the reaction of the disrupted. We'll call this vulnerable period, offshore wind's "advocacy valley of death".
For those in the offshore wind sector looking to leveraging the community engagement lessons from other sectors, a pattern emerges from their collective experience. It's a pattern of common mis-steps that can put a company on "The Clean Economy Mistake Path," a three-stage descent into expensive problems or even project death.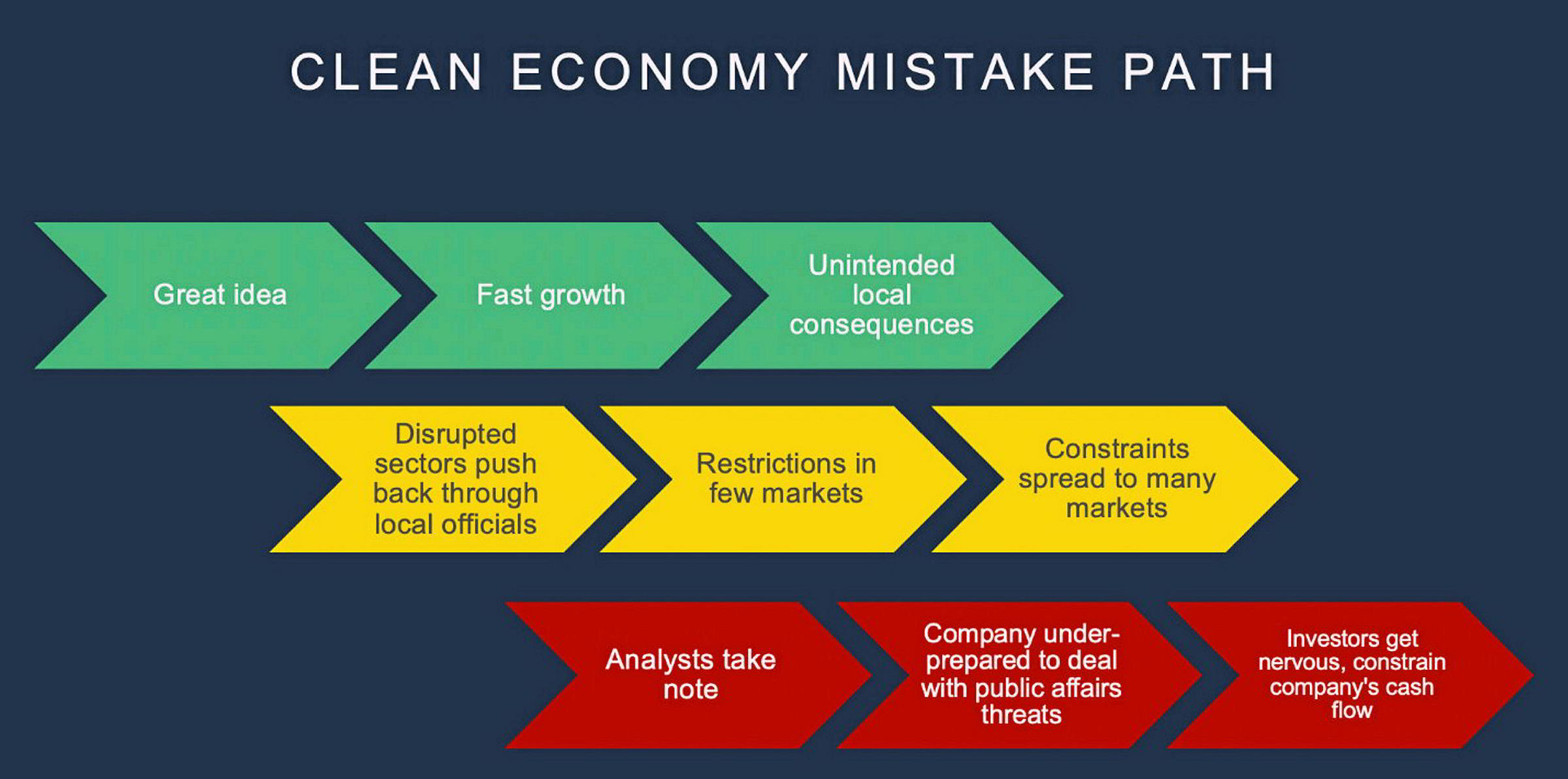 You can go into greater detail about those mis-steps – and how to avoid them – by clicking here. But perhaps foremost among them is neglecting the increasing portion of community decision making that takes place online.
Even before the pandemic hit, so much of a community's consideration of any clean energy activity was happening online. Yet back then, most community engagement programs still heavily favored in-person, retail communications with local citizens. They treated digital as an afterthought.
During the recent global lockdown, however, clean economy companies had to operate in a digital-only environment. As economies reopen, companies will see a landscape littered with the remains of local news organisations gone bankrupt, forcing greater reliance on companies' ability to generate content, share it and engage people whose information consumption habits will be permanently changed by a four-month global lockdown.
In other words, clean economy companies won't be moving from temporary, digital-only programs back to reliance on in-person contact with local citizens. Instead, they will move from today's digital-only to tomorrow's digital-mostly.
The current pandemic will only hasten this trend, and offshore wind developers are unlikely to return to a previous 'normal' of heavy reliance to in-person engagement of community leaders, groups and individual citizens. Instead, community engagement will move much more heavily online (mostly on Facebook). In our view, the pandemic is making other sectors' experiences all the more relevant and valuable for offshore wind.
Offshore wind companies are at the beginning of a potential growth spike that will be unlike anything we've seen in the short history of clean economy companies. The resources are there to generate twice the current power consumption of the entire U.S. But that doesn't make the sector's success inevitable.
Quite the contrary: The sector is even more of a target for those disrupted to ensure that government at every level is an obstacle to offshore wind growth.
Other sectors have harvested lessons that are lying in plain sight. It's up to offshore wind to apply them to its unique needs and its vast promise.
· Mike Casey is the founder and president of Tigercomm, a clean economy marketing and public affairs firm based in the Washington DC area.