Global energy giants including Iberdrola, Orsted, TotalEnergies, Shell and BP with its partner EnBW were among the winners in the eagerly-awaited ScotWind seabed leasing round for a potential 25GW of new offshore wind development off Scotland.
The Crown Estate Scotland selected 17 projects from 74 applicants to receive option agreements, giving them the opportunity to advance projects to a full lease.
As expected, floating wind projects were prominent among the successful bidders (see panel below) after a process that the Scottish seabed landlord said would raise £700m ($958m) in option fees and which could unlock a £25bn supply chain bonanza.
Scottish First Minister Nicola Sturgeon said: "ScotWind puts Scotland at the forefront of the global development of offshore wind, represents a massive step forward in our transition to net zero, and will help deliver the supply chain investments and high quality jobs that will make the climate transition a fair one.
"It allows us to make huge progress in decarbonising our energy supply – vital if we are to reduce Scotland's emissions – while securing investment in the Scottish supply chain of at least £1bn for every gigawatt of power. This will be transformational."
Sturgeon added: "The scale of opportunity represented in today's announcement exceeds our current planning assumption of 10GW of offshore wind, which is a massive vote of confidence in Scotland. So we will now embark on the rigorous consenting process required to make sure we can maximise the potential that clearly exists in offshore wind while also ensuring that the impacts of large scale development – including on other marine users and the wider natural environment – are properly understood and addressed.
"While it is not yet possible to say with certainty what the scale of development will ultimately be, there is no doubt that the scale of this opportunity is transformational, both for our environment and the economy."
Big names in the frame
The winning consortia include in various combinations many of the biggest names in global energy, including Iberdrola via its ScottishPower subsidiary which will advance big plans with Shell, and Orsted, which teamed up with Falck Renewables for one of the successful bids, a debut potential 1GW floating project that also includes technology pioneer BlueFloat.
French oil & gas giant TotalEnergies is also on the list of winners as part of the Offshore Wind Power consortium with Macquarie's Green Investment Group.
But a notable absentee from the list of winners is Equinor, which pioneered floating wind with its Hywind Scotland commercial array, the world's first to enter service off the country in 2017.
Simon Hodge, chief executive of Crown Estate Scotland, said: "Today's results are a fantastic vote of confidence in Scotland's ability to transform our energy sector. Just a couple of months after hosting COP26, we've now taken a major step towards powering our future economy with renewable electricity.
ScotWind winning consortia
Map reference

Lead applicant

Option Fees

Technology

Total capacity (MW)

1

BP/EnBW

£85,900,000

Fixed

2,907

2

SSE/Marubeni/CIP

£85,900,000

Floating

2,610

3

Falck/BlueFloat

£28,000,000

Floating

1,200

4

Shell/Iberdrola/Eolfi

£86,000,000

Floating

2,000

5

Vattenfall/Fred Olsen

£20,000,000

Floating

798

6

DEME/Otary/Qair

£18,700,000

Fixed

1,008

7

DEME/Otary/Qair

£20,000,000

Floating

1,008

8

Falck/Orsted/BlueFloat

£25,600,000

Floating

1,000

9

Ocean Winds

£42,900,000

Fixed

1,000

10

Falck/BlueFloat

£13,400,000

Floating

500

11

Iberdrola/Shell/Eolfi

£68,400,000

Floating

3,000

12

BayWa/Elicio/BW Ideol

£33,000,000

Floating

960

13

TotalEnergies/Macquarie

£65,700,000

Fixed

2,000

14

Northland Power

£3,900,000

Floating

1,500

15

Magnora/Technip

£10,300,000

Mixed

495

16

Northland Power

£16,100,000

Fixed

840

17

Iberdrola

£75,400,000

Fixed

2,000
Source: Crown Estate Scotland
"In addition to the environmental benefits, this also represents a major investment in the Scottish economy, with around £700m being delivered straight into the public finances and billions of pounds worth of supply chain commitments.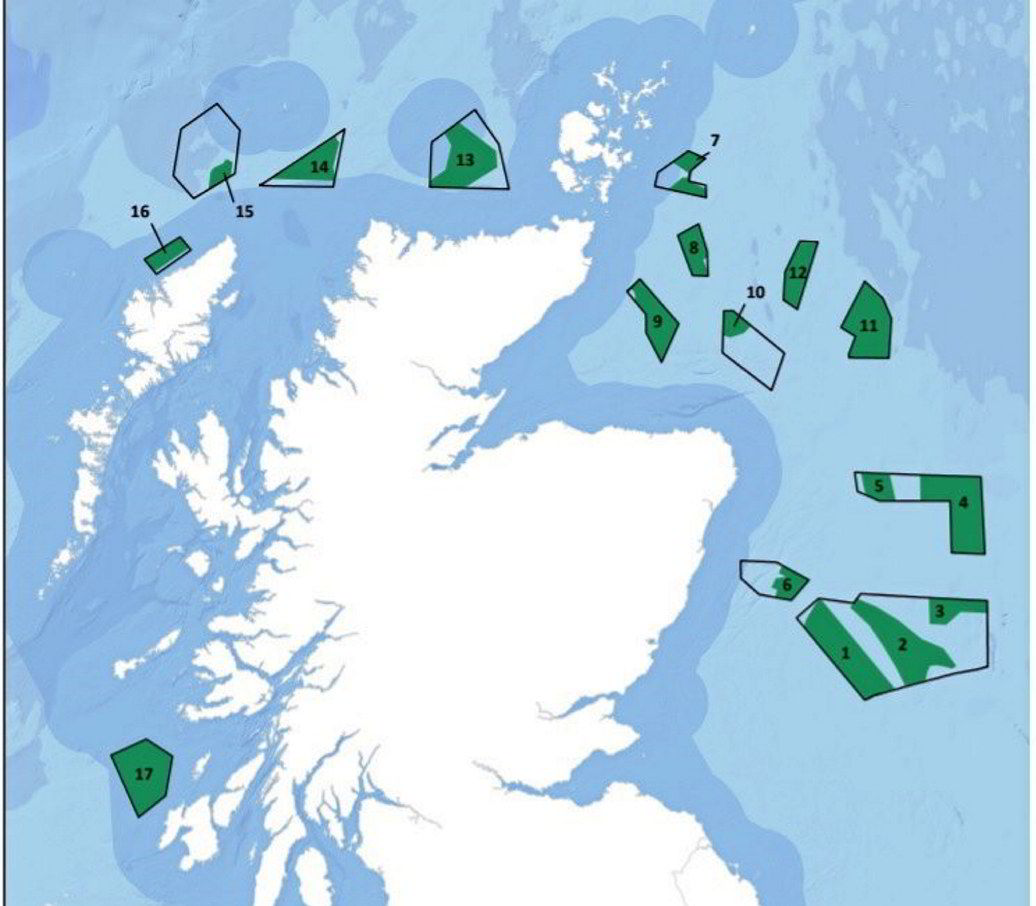 "The variety and scale of the projects that will progress onto the next stages shows both the remarkable progress of the offshore wind sector, and a clear sign that Scotland is set to be a major hub for the further development of this technology in the years to come."
Should any application not progress to signing a full agreement, the next highest scoring application will instead be offered an option.
As they advance towards a final lease, the successful bidders will have to specify significant commitments to the local supply chain in Scotland.
The Scottish government and Crown Estate Scotland know the crucial role large-scale offshore wind development could play in providing contracts and jobs for the Scottish oil & gas sector as the North Sea fossil industry dwindles over coming decades.
Contenders in the run-up to ScotWind's closing date in July 2020 and in the months since have been queuing up to stress the bounty their projects would bring, whether through the rebirth of former oil & gas facilities as floating wind bases, catalysts for a Scottish green hydrogen industry or offering the chance for Scots to own stakes in offshore wind farms.
Commentators hailed ScotWind as a milestone for the offshore wind sector on several fronts as Crown Estate Scotland assessed a bumper 74 applications for the 15 seabed areas covering 8,600km2 on offer by consortia including a who's-who of global energy planning some of the biggest projects on the planet and the use of pioneering technology such as seabed substations.
Scotland could legitimately already claim the title of global floating wind champion – the world's first commercial floating array, Equinor's Hywind Scotland, has been spinning since 2017, while the world's largest floating wind farm so far, the 50MW Kincardine, was last year completed off Aberdeen, part of 2.3GW of mostly fixed-bottom capacity commissioned or in construction off the Scottish coast.
The recently greenlighted Pentland project – at 100MW in the frame to be world's largest deepwater array – is also formally moving ahead led by developer Highland Wind.
Scotland is pursuing an 11GW offshore wind target by 2030 as part of its wider climate and energy targets, including net zero by 2045.