ScotWind – Scotland's flagship offshore wind auction and arguably the most eagerly-anticipated seabed leasing round in sector history – is set to reveal its results as soon as Monday (17 January), leaving some of the biggest names in global energy with massive new development opportunities and others licking their wounds.
The Scottish government and seabed landlord Crown Estate Scotland hope ScotWind will spur up to 10GW of new capacity and a £9bn ($11.5bn) investment wave, playing a huge role in the devolved nation's net zero plans that include an overarching 11GW offshore wind target for 2030.
Commentators have hailed ScotWind as a milestone for the offshore wind sector on several fronts as Crown Estate Scotland assesses a bumper 74 applications for the 15 seabed areas on offer by consortia including a who's-who of global energy planning some of the biggest projects on the planet (see panel at foot) and the use of pioneering technology such as seabed substations.
The leasing round is also set to be the first globally to award large-scale acreage suitable for floating wind deployment – a study by the UK's Offshore Renewable Energy Catapult said that it expects floating platforms to be the most-used foundation type in projects enabled by ScotWind.
Oil & gas players queue up
ScotWind has seen an unprecedented pile-in for offshore wind by giants of the oil & gas industry, with ambitions strengthened by the fact that many see the round as in their North Sea 'backyard' where they already have significant hydrocarbons operations – and skilled workforces eager to embrace new opportunities in the energy transition.
The Scottish leasing round is also heavily focused on delivering local economic benefits, with those successful in obtaining lease options needing to include significant supply chain plans in their agreements with Crown Estate Scotland – and face having those measured as their project plans advance.
Contenders in the run-up to ScotWind's closing date in July 2020 and in the months since have been queuing up to stress the bounty their projects would bring, whether through the rebirth of former oil & gas facilities as floating wind bases, catalysts for a Scottish green hydrogen industry or offering the chance for Scots to own stakes in offshore wind farms.
The heavy emphasis given to local benefits flowing from potential projects has been one of the most obvious differences between ScotWind and the parallel seabed leasing process run in England and Wales, said Dan Pearson, The Renewables Consulting Group's chief strategy officer, speaking with Recharge.
"We've seen during the assessment stage a lot of companies jostling for position in a political way with regards to the supply chain and the benefits Scotland will see specifically. That's a really significant point that's different to other tenders we've seen so far in the world [where] I don't think it's been as explicit as that."
With developers set to pay up to £100,000/km2 in option fees as they advance towards final leases, ScotWind will become a major revenue earner for the Scottish government's green ambitions.
But with commentators expecting contenders to bid up to the cap, the bidding consortia will be separated by assessment of more subjective criteria around delivery-readiness and experience.
Pearson says the result could be a test for the robustness of the process. "There are some big hitters in this process, and you can imagine appeals going in," he said.
Fanning floating wind's flames
In the wake of selection process, the successful leaseholders will face the myriad challenges of advancing their projects.
For fixed-bottom developments, Pearson expects the momentum built up by existing giant Scottish projects such as Seagreen to ensure a relatively swift passage forwards – although grid connections could prove a particular challenge.
For floating, which would be breaking new ground globally, the challenges are more daunting, he believes, especially regarding development of a supply chain for a sector that barely exists at present.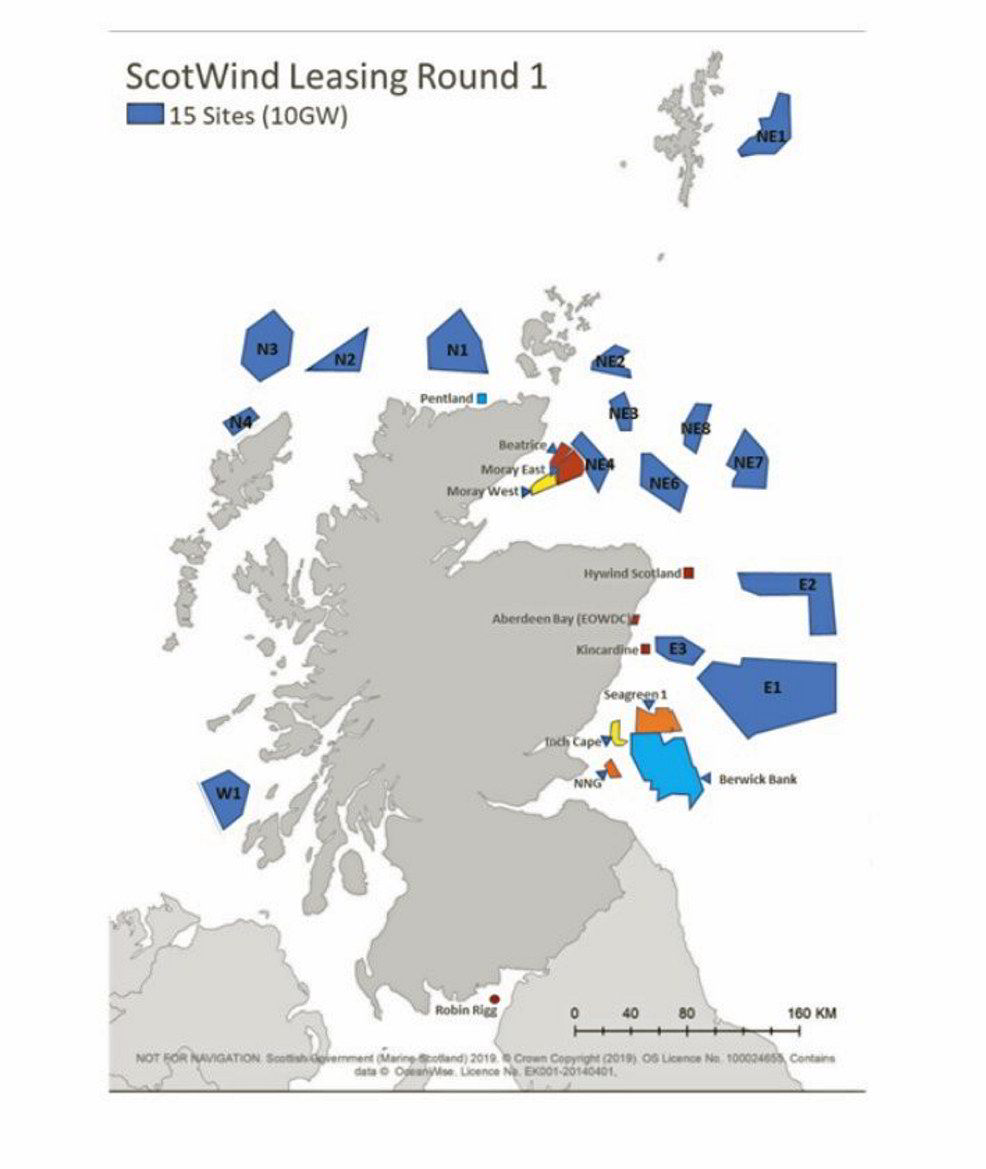 However, "you can't start a fire without a load of fuel. If the projects aren't there the market won't catch light, and these projects will really fuel the growth".
For Scotland, the floating element of ScotWind could represent a national triumph, establishing it among the undisputed leaders globally in what is tipped to be one of the key new industries of the energy transition.
Scotland could legitimately already claim the title of global floating wind champion – the world's first commercial floating array, Equinor's 30MW Hywind Scotland has been spinning since 2017, while the world's largest floating wind farm so far, the 50MW Kincardine, sits off Aberdeen. And the recently greenlighted Pentland project – at 100MW in the frame to be world's largest deepwater array – is also formally moving ahead led by developer Highland Wind.
The nation's offshore wind sector also faces challenges, however. On the eve of ScotWind's announcement, the Scottish Offshore Wind Energy Council warned that projects built in the nation's waters face being hammered by far higher transmission charges than those incurred south of the border, putting them at a significant competitive disadvantage, with a potential gap of £9.47/MWh between projects in the north of Scotland and those in England.
Scotwind's confirmed entrants
Shell/ScottishPower Renewables (Iberdrola)
Ocean Winds/Aker Offshore Wind
Orsted/BlueFloat Energy/Falck Renewables
Vattenfall/Fred Olsen Renewables
BP/EnBW
TotalEnergies/Green Investment Group (Macquarie) / RIDG
Equinor
RWE
Eni/Red Rock Power
SSE/Marubeni Corporation/Copenhagen Infrastructure Partners
Magnora Offshore Wind/TechnipFMC
Invenergy/BW Offshore
BayWa/Elicio/BW Ideol