The Gulf of Mexico could see its first two wind energy areas (WEAs) established this year, kickstarting development in a stalwart region of the oil & gas sector with huge potential to supply the wider US offshore wind industry.
The Bureau of Ocean Energy Management (BOEM), regulator of energy development on the federal outer continental shelf (OCS), on Wednesday identified the first two draft WEAs in the Gulf – one off the coast of Louisiana the other off Texas – that could host a combined 15GW of offshore wind plant.
"Today, we began the process to develop wind power in the Gulf of Mexico for the first time," said President Joe Biden.
The announcement was made as Biden spotlighted the industry in remarks on climate legislation at Brayton Point, Massachusetts, which once housed New England's largest coal-fired power plant that has since been demolished and the site repurposed for the offshore wind industry.
Liz Burdock, CEO of industry advocate the Business Network for Offshore Wind, said: "President Biden's actions today will help drive development of the emerging offshore wind supply chain by unlocking much-needed workforce expertise, resources, and infrastructure in the Gulf of Mexico and giving traditional energy workers opportunities to transition to new, good-paying jobs."
Gulf interest surging
Interest in Gulf offshore wind has surged in recent months following Louisiana's 5GW offshore wind goal established by governor Jon Bel Edwards, part of his executive action aimed at net-zero emissions by 2050. Further legislation recently passed enables wind energy development in state waters.
The National Renewable Energy Laboratory (NREL) sees 1.9TW of technical potential streaming over Gulf waters, 500GW of which could be commercially harvested by today's technology, some 32% of the country's total fixed bottom offshore wind potential.
The first draft WEA, located around 24 nautical miles (nm) off the coast of Galveston, Texas, totals 546,645 acres (2,212km2), and has between 6.6GW and 11GW of potential capacity, enough to power 2.3 million homes. The second draft WEA sits 56nm off the coast of Lake Charles, Louisiana, totalling 188,023 acres (760km2), holds some 2.28GW-3.8GW of capacity.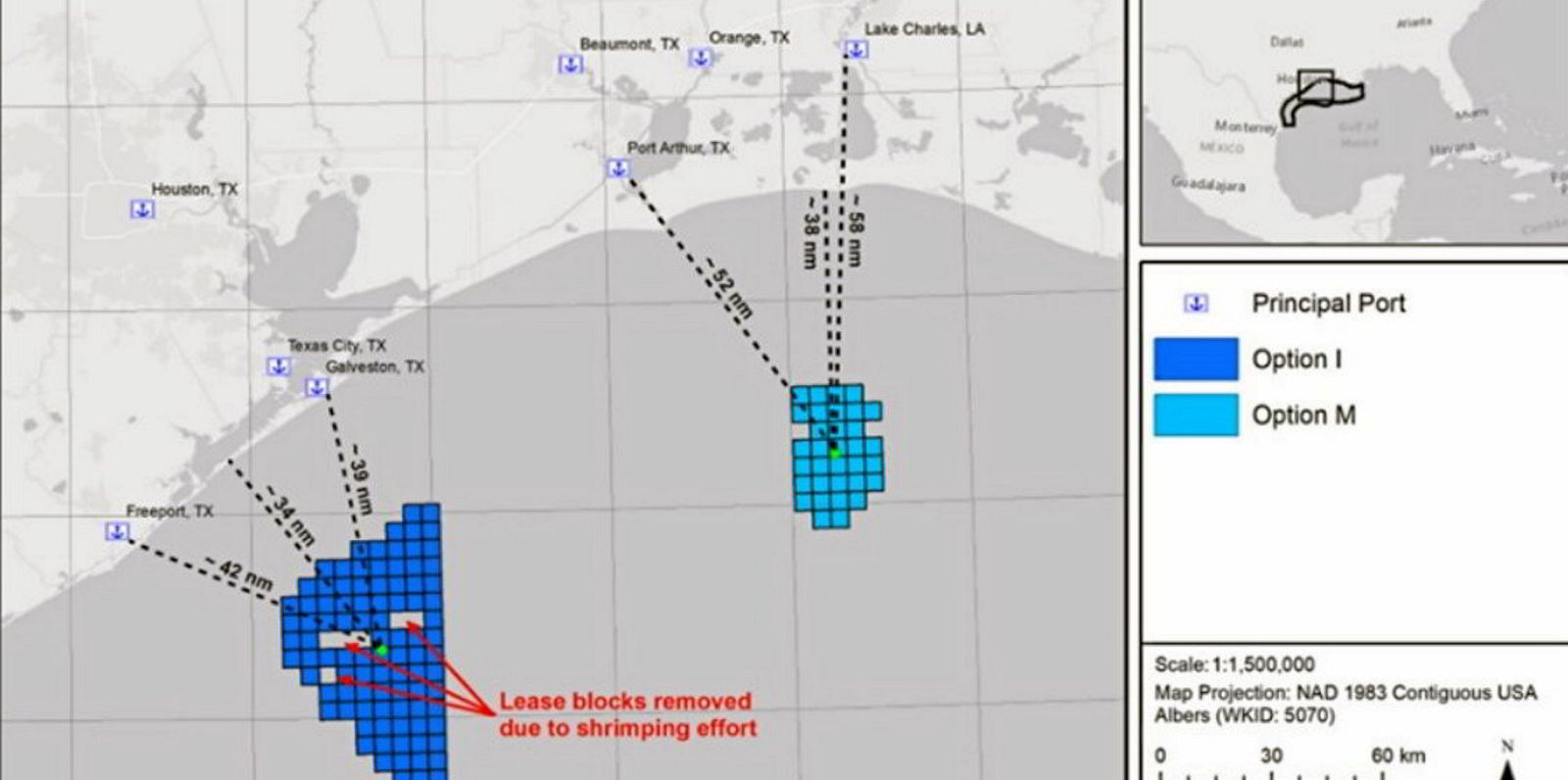 Last fall BOEM established a vast, 30-million acre Gulf of Mexico call area, an early step in the OCS leasing process.
The draft WEAs reflect BOEM's winnowing process as acreage is removed from consideration to avoid potential impacts on other ocean users, such as commercial and recreational fishing, maritime navigation, military activities, marine protected species, avian species, and existing infrastructure.
They will likely be narrowed further into multiple, smaller areas, and BOEM announced it would create as many as 11 WEAs over the next few years, with each holding on average 1.5GW of capacity.
"BOEM used the most current scientific data to analyse 30 million acres in the call area to find the best spaces for wind energy development. We are invested in working in partnership with states and communities to find areas that avoid or minimise conflicts with other ocean uses and marine life in the Gulf of Mexico," said BOEM director Amanda Lefton.
The Gulf of Mexico was slow to gain the industry's attention, with developers initially put off by relatively slow wind speeds averaging 7 metres per second (m/s), trailing US averages, as well as annual hurricane seasons and construction complications linked to the soft seabed.
Low power prices and lack of offshore wind mandates from any of the state's bordering the Gulf also stifled appetite, and BOEM's initial request for interest last fall garnered only a single comment, from German utility offshore wind developer RWE.
Texas, the nation's number one electric power market and the world's eighth largest economy, has shown no interest in offshore wind development. The state is also the largest market for onshore wind and among the hemisphere's hottest large-scale solar plays, both of which are much cheaper than offshore wind.
Yet these drawbacks are offset by the region's massive offshore wind-ready oil & gas industry. The Gulf has a huge network of coastal manufacturing facilities capable of handling the large-scale offshore wind componentry better than the smaller, older ports of the US northeast, as well as service vessels aplenty and shipyards to build more.
The region also offers large numbers offshore energy workers and major load areas, as well as huge industrial demand for hydrogen offering the prospect of deploying offshore wind to generate green hydrogen.