A modular, high performance textile-based offshore turbine rotor blade that promises to improve on present-day fiberglass models' energy capture using a lighter, 'fully sustainable' –and repairable – design has completed a battery of key tests at the biggest onshore wind farm in the UK.
Data from trials at the 539MW Whitelee development near Glasgow of a trio of 13-metre versions of UK start-up Act Blade's new concept showed the design to be 24% lighter than conventional blades of that length, meaning a model could be made 10% longer (than a 'standard' 55-metre unit) and harness 9% more energy while cutting levellised cost of energy by 6.7%.
"The test successfully achieved all our set goals: it validated our design and prediction capabilities to a high level of confidence," said Act Blade technical director Donald MacVicar.
"We were also able to enhance our knowledge in control software design and this gives great confidence in our design capabilities, as we are closing the design of our first commercial prototype blade."
The ACT27 test blades were put through their paces during six-months' operation to study the technology's modular manufacturing process, its performance in 'real-world conditions', textile maintenance, and design and prediction methodologies – and withstood gusts of over 40 metres per second as two storms blew through during the trials.
John Rimmer, Act Blade's chief specialist, noted the testing platform also validated the value of an "assembly of systems" approach to manufacturing, as well as providing an opportunity to demonstrate the blade's shell could "be easily cut and patch[ed] to perform internal repairs to the structures and systems with little to no aerodynamic impact from the external repair".
The company sees the modularity, light weight and sustainability of its design – originally inspired by yacht sail structures – as making it "well-suited to scale-up" for future offshore machines.
"Our strategy is to first earn our reputation as not only lightweight, but also modular and sustainable solution that is first deployed onshore and later to apply it into offshore products," stated Act Blade CEO Sabrina Malpede, adding the company "anticipates that our textile technology on a blade for a 200-metre-diameter rotor to be under 50 tonnes".
For comparison, this would be around five tonnes lighter than blades devised by LM Windpower for GE's Haliade-X 14MW turbine, which flies a 220-metre rotor.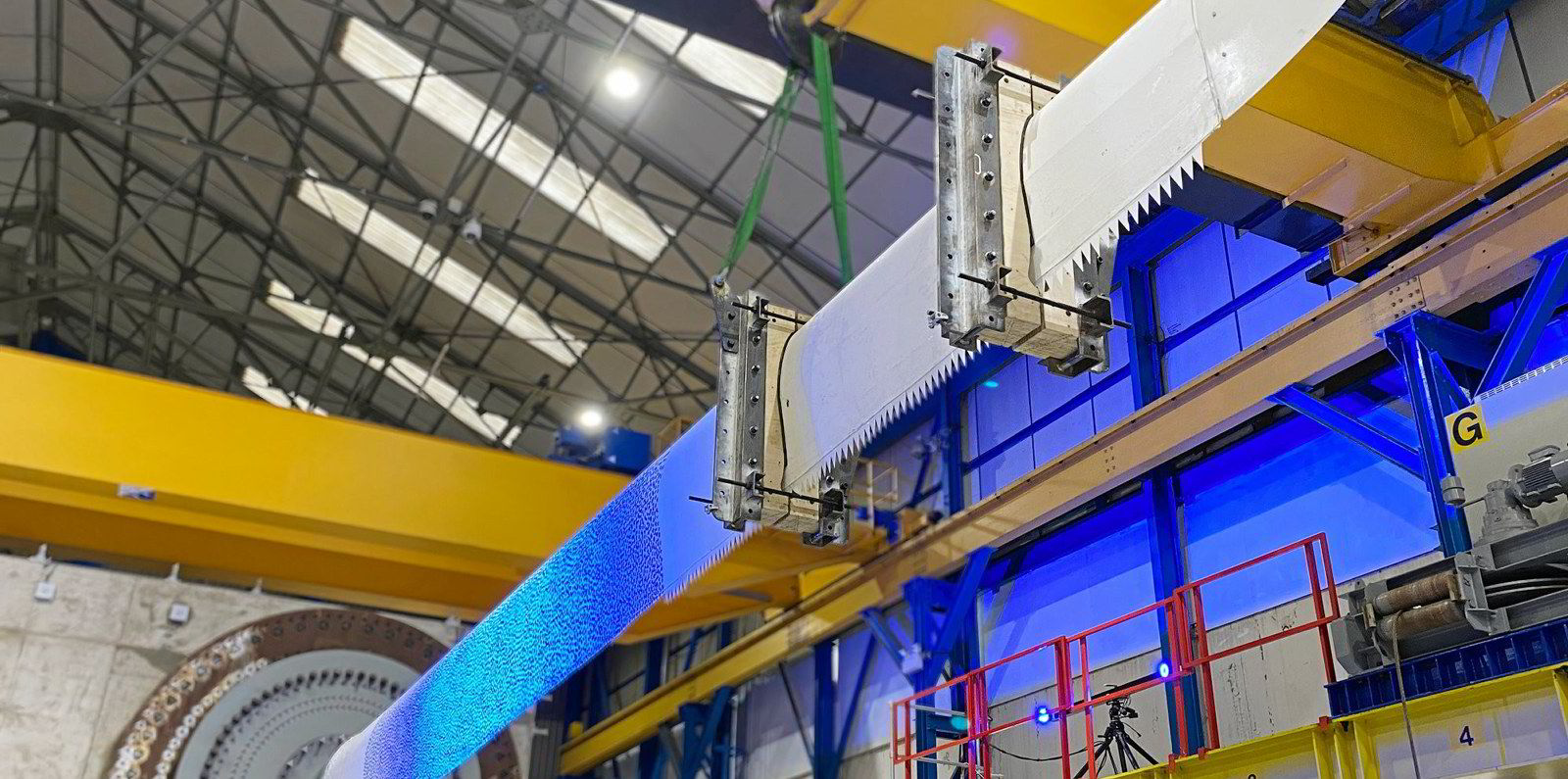 Malpede said to Recharge: "At this stage [we have] been very conservative [in estimating weight savings compared to tradition technologies]. The data sent were based on the same extrapolation coefficients, currently used in the industry, considering our current blade technology.
"The ACT100 blade weight is 2% lower than a 45-metre long blade built within the same load envelope. As we plan to enter the offshore market in a few years, we have a clear technology road map not only to make our blade lighter, but also more sustainable and resistant to harsh offshore conditions."
Malpede stressed the "more sustainable" manufacturing process integrated into the blade concept's engineering. "Because of the slimmer internal structure, assembly processes and textile use, we use smaller tooling, smaller factories, less consumables, less energy and we have minimal abrading and no painting shop," she said.
"In addition, as being an assembly of sub-system it is even easier to dismantle at end of life. Our vision is not only a fully recyclable blade but also manufactured in the most sustainable manner."
The success of the Whitelee tests, which had the Act Blade test blades flying on a Vestas V27 turbine, clears the way for an installation of a 49-metre-long ACT100 demonstrator model early in 2023 and delivery to customers "by year-end".
Blade recycling has moved up the wind industry agenda in recent years as sustainability and environmental impact has grown increasingly important to sector progress, with the prototype of an 'eco-design' model fashioned from thermoplastics and a new-generation recyclable resin recently coming out of the moulds at GE-owned LM Wind Power's fabrication hall in Spain.