Norwegian maritime industrial giant Fred Olsen has launched a new company, Fred Olsen 1848, to fast-track a range of inventive offshore renewable energy technologies to market, including a modular floating wind concept dubbed 'Brunel', Recharge can reveal.
Focus your mind: get the insight you need with the Recharge Agenda
The global energy transition is gathering momentum – and the accompanying news-stream becoming an information deluge. Separate the green giants from the greenwash and the hard facts from the click-bait headlines with Recharge Agenda, our curation of the market-making events of the week, distilled down into one quick-read newsletter. Sign up here for free
The "innovation company", named after the year in which its Oslo-headquartered parent started up its shipping business, has six new technologies it aims to commercialise, with the first three dedicated to floating wind farm construction and operation.
"In the various Fred Olsen companies we have built on our experience in renewables and have been working for a long time and on different innovations, [toward] solving market challenges, and especially in floating wind and solar, [which] are effectively new industries," Sofie Olsen Jebsen, CEO of Fred Olsen 1848 said, speaking exclusively with Recharge before the company's formal launch.
"We believe what is required is totally new thinking on solutions… to get the industries rolling into real industrialisation and get the pace of production you need for gigawatt-scale wind farms.
"Bringing these advanced – very different – technologies into one company will allow us to streamline the process of getting them into the market."
Carolyn Heeps, Fred Olsen Renewables' head of offshore wind, adds: "From the developer side as well, we can actually draw upon our innovative industrial history… and help bring forward the solutions that we need for the technologies of tomorrow but delivered 'now'."
Jebsen continues: "We have been developing these technologies for some time and we believe they are solidly founded… to be among 'the' solutions for the problems we face today [in terms of the need to speed up the energy transition to slow climate change].
"This is why we are forming this new company, to have more focus on these patent pending technologies, to bring them to commercialisation sooner."
First out of harbour is Fred Olsen 1848's 'mobile port solution', a concept that marries a jack-up installation vessel, a barge and feeder vessels to create an offshore facility in a sheltered area with mooring points where the turbine and foundation for floating wind units can be integrated rapidly for tow-out to a project site – without taking up valuable quayside space along a country's coastlines.
As Heeps notes, it is "a solution that has come about thanks to the technologies we already have 'ready to go' now, in order to do something innovative". Devising new technology application aided by the "developer mindset", she says, has led to solutions such as the MPS that dovetail existing technologies "into a different configuration to a solve a significant problem [in this case, the lack of port space to manufacture and deploy giga-scale floating wind farms].
"Innovation isn't always about developing something 'brand new'," Heeps says.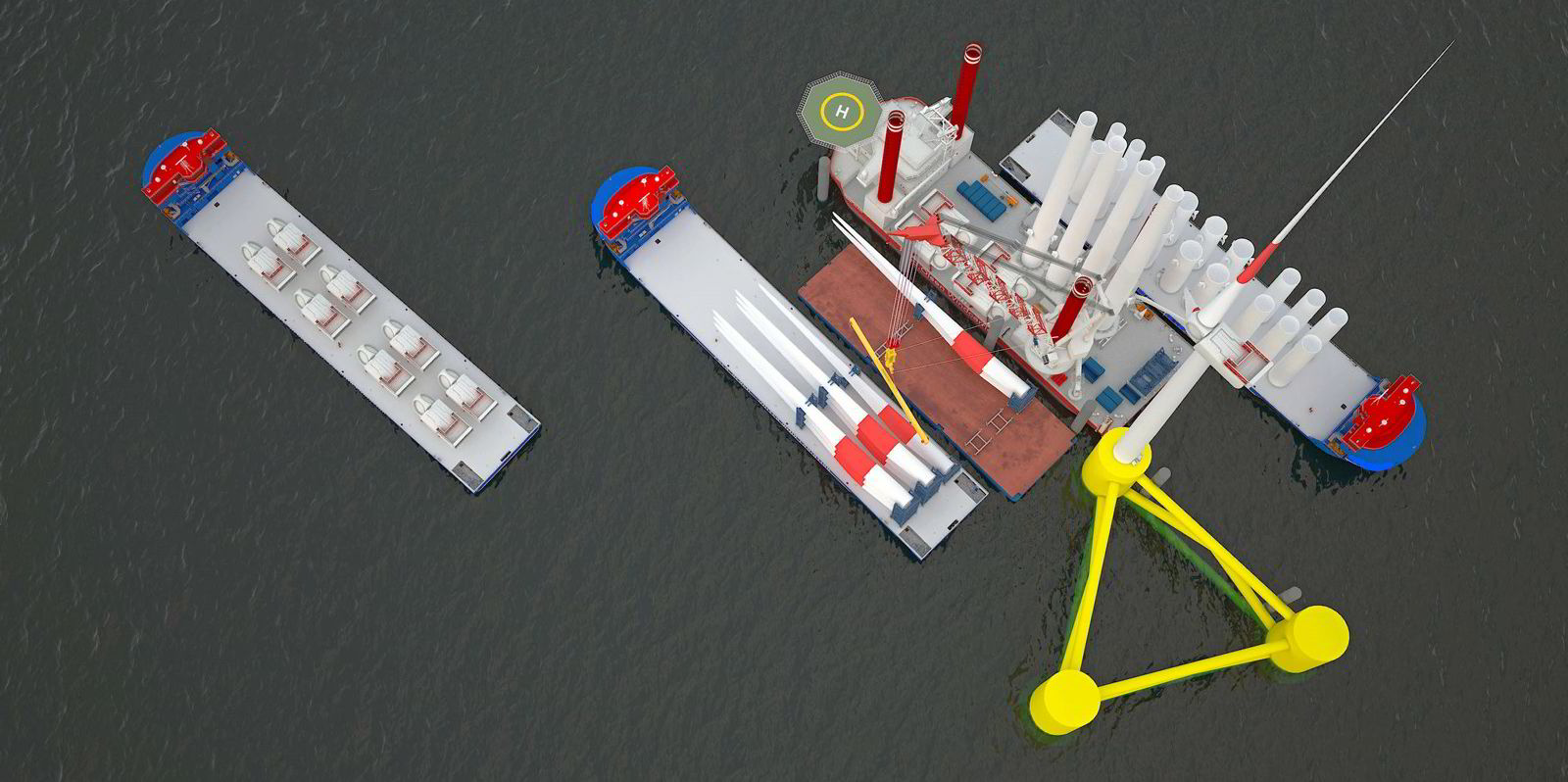 The MPS has been woven into Fred Olsen Renewables joint bid with utility Vattenfall for Scotland's upcoming ScotWind offshore wind auction, based on a sheltered location in Scapa Flow in the Orkney Islands as part of the partners' proposed development project.
The Brunel floating wind foundation, a modular steel semisubmersible, is another "very solution-minded" innovation, says Jebsen, that weds new engineering intelligence and established industrial competency.
"This [design] is about trying to solve the serial production problem you have in floating wind. There are many visions about gigawatt-scale floating wind farms, but with the existing foundation concepts that are out there it will take years to build out one large floating wind farm.
"[It is] a solution suitable to automated production but that is also built upon the existing global supply chain for steel tubulars – for monopiles and towers, for instance – that you can tap right into for instant project scale and lower cost manufacturing," says Jebsen.
The design, fashioned to be "fit for the next generation of wind turbines", is currently in the concept certification phase and is expected to confirm itself to be "as advanced on a TRL [technical readiness level] as many designs out there" when it is formally unveiled in a short period of time.
The third technology that will form part of Fred Olsen 1848's advance guard as the new company emerges into the market, is a crane solution for floating wind farm maintenance and operations that gets around the need to tow-in units to shore for repair when called for or if major components need to be swapped out.
The new company and its first suite of innovative technologies, says Jebsen, "all reflect the spirit of innovation and solving challenges that has long been part of who we are [in the Fred. Olsen related companies] and makes us work well together".
"The tradition for innovation stems from when the ship-owning enterprise commenced in 1848. From [that year], the Fred Olsen group of companies has continuously contributed to major technological shifts, from sailing ships, to steam-driven vessels, to oil tankers, floating production and drilling rigs, and now back to wind again – on land, offshore and floating," she says.
"We have a lot of people in the Fred Olsen related companies that are genuinely feel strongly about bringing renewables forward and want to contribute to helping to create a greener world. This new company is inspired by that."