Float in, float out
Bibby Marine is a world-leading provider of niche marine workforce accommodations via its fleet of floating accommodation barges, or "floatels".
Bibby's barges are particularly suited for projects situated in highly remote areas, where local accommodations are difficult or impossible to find. Remote projects like these often call for building of new structures to accommodate workers, like land camps. Building land camps for offshore projects incur huge operational costs, expand development timelines, and put massive strain on the local environment.
Why use a floating accommodation barge instead of a land camp?
Floating accommodation requires minimal site clean preparation and clean up
Choosing a land camp for your operations means clearing vast amounts of land, requiring vast amounts of time. Floating accommodations eliminate the need for land clearing.
A reduction in CO2 emitted per year compared to land-based accommodation
Clearing land for temporary project accommodations is just as costly to your project's bottom line as it is to the environment.
Deconstruction ease
The accommodations simply just float away after the project is complete.
Compact & efficient
Accommodation barges are constructed to be compact, which translates into lower heating and cooling demands compared to a land-based accommodation scheme.
Source: Bibby Marine
Meanwhile, a Bibby accommodation vessel leaves virtually no trace, simply "floating away" from the area once the project is complete, minimizing site prep and clean-up and vastly reducing CO2 output from land camps. Moreover the accommodations and onboard facilities are well-regarded amongst workers and partners alike.
Take BP, for example, who partnered with Bibby Marine in 2013 for a long-term maintenance project at Sullom Voe Oil Terminal. The terminal's closest landfall was a small town called Scalloway on the west coast of the Shetland Islands, where local accommodations in no way could support an influx of hundreds of workers. With land camps off the table, BP needed to find a solution quickly and chartered the Bibby Challenge for first one, then three years.
"Bibby Challenge has offered a great solution for our project's needs, and provides our workers with a comfortable home in a remote location," reads a testimonial provided by BP following a 2013 charter of the Bibby Challenge. "The facilities onboard have proved to be very popular, and our catering and housekeeping company have found the spaces easy to use. We regard Bibby Challenge as a good value solution, and after initially chartering the vessel for one year, we asked for options to extend for another 18 months."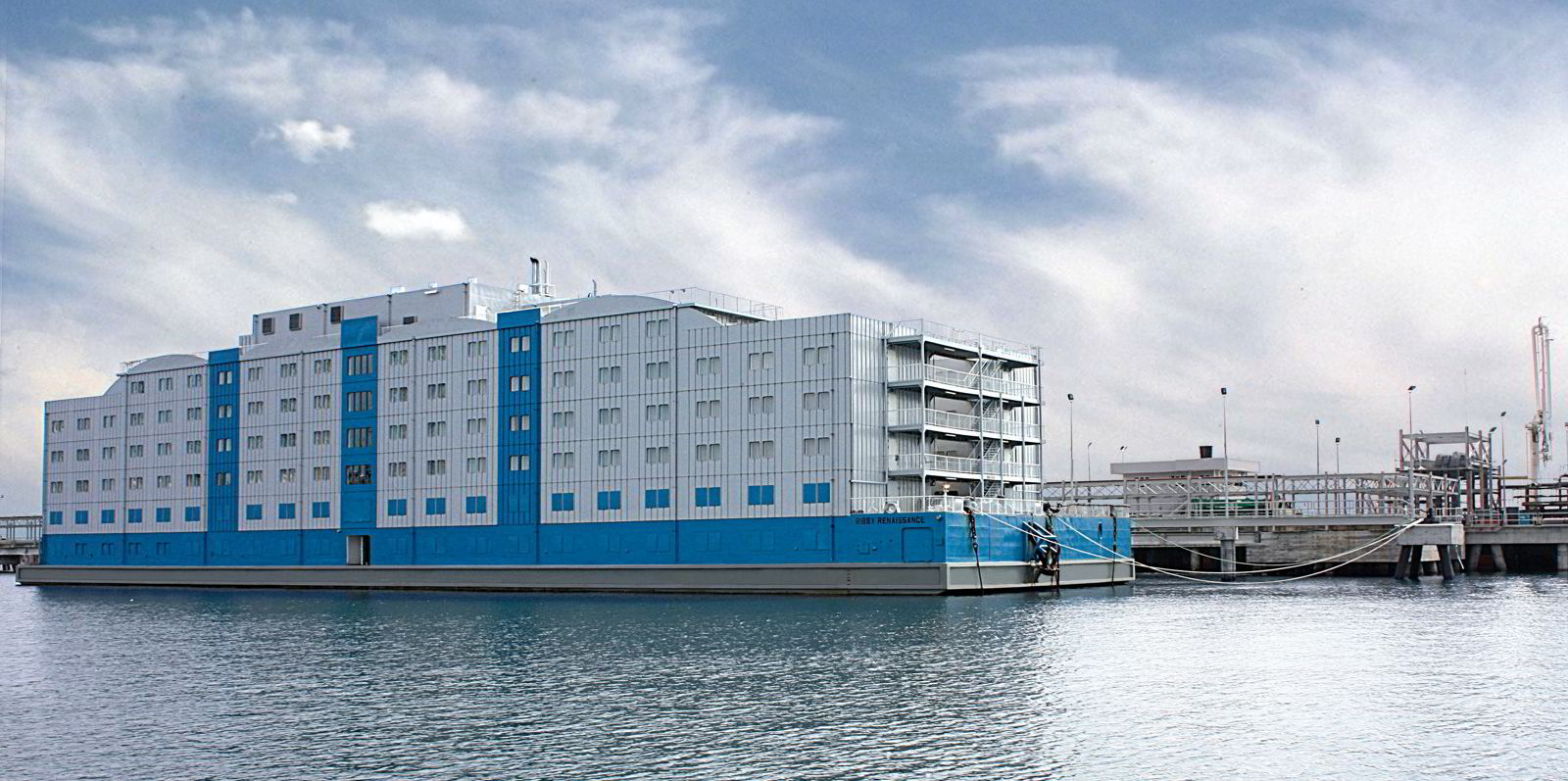 For the oil and gas industry, these accommodation vessels offer a refreshingly simple solution amidst the challenges and complexity of offshore projects. Today's rapidly growing offshore wind industry is proving to be equally challenging, and Bibby aims to support its development with the latest addition to the fleet.
Accommodating the energy transition
The Bibby Pioneer, is a multi-functional work and accommodation barge strategically positioned to support offshore wind farm projects.
In addition to accommodations, the vessel's boat landing areas and massive work deck allow for expanded storage capacity and easy access for cranes and other large equipment. The Pioneer houses 120 guests via its 60 bedrooms, and can be modified to support more conventional and larger accommodation demands through the mobilisation and installation of temporary living quarters on the deck space or adding on top of the existing accommodation modules.
The Pioneer is also outfitted with an 8-point offshore mooring system providing endless mooring possibilities and full operational capacity without needing to be berthed to land - making it ideally suited for projects further offshore.
Thanks to this loadout, Bibby's Pioneer is an ideal choice for wind farms, cable repair and replacement, maintenance, and industry support role projects. Most recently, the barge has supported cable laying and repair projects in the North Sea and is being closely eyed for more projects just over the horizon.
Looking to charter an accommodation vessel for your next project?
Bibby Marine owns and operates a fleet of six shoreside accommodation barges located all across Europe ready to serve the energy industry, plus two WaveMaster SOV's dedicated to serving the offshore wind market. Get in touch with the team to learn more about Bibby's vessel options or to discuss charter options.