The world has squandered the chance to use Covid-19 economic stimulus packages to supercharge progress toward meeting the climate action goals set out by the Paris Agreement and now has a "very short window" to limit global heating to 2°C above pre-industrial levels, DNV has underlined in its latest Energy Transition Outlook (ETO).
The international consultancy found that at current trajectories, despite the explosive growth in the worldwide wind and solar build-out of the last ten years, energy-related emissions will decline only 9% by 2030, on course to an average temperature increase of 2.3°C by the end of the century, bringing catastrophic changes to the global climate.
"There has been a lot of positive change over the past few years [in the energy transition] but not fast enough – we've not been standing still but progress has not been faster than what we predicted five years ago [when the first ETO was published]," DNV CEO Remi Eriksen told Recharge, speaking ahead of the report's launch.
"The verdict is clear: the world needs vastly more green electricity, both direct and indirect, more biofuel, and more carbon capture and storage [(CCS)] on a dramatically accelerated timescale."
Though electrification has been "surging ahead" with renewables now outcompeting all other energy sources on new-build price, he said, the ETO reveals fossil fuels are "only gradually losing position", and are on track to still be making up 50% share of the global energy mix in 2050, with "gas maintaining its current position, oil demand halving, and coal falling to a third of current use".
Renewables' share of the global electricity mix is forecast in the ETO to mushroom from 26% in 2019 to 82% in 2050, led by wind and solar (see panel below) and bolstered by "major changes" in flexibility and storage, while "rapid retirements" of coal plants starting in 2026 will see the black stuff fall to almost 75% of present plant by mid-century.
Gas, meanwhile, will remain market-competitive over this 30-year stretch, with plant capacity sliding just 22% from current levels, and hydropower, limited by resource constraints, is expected to experience a drop in its share from 16% in 2019 to 12% in 2050.
At the same time, global energy demand growth and the concurrent expansion of renewables plant is forecast to result in a "steady increase" in grid investments, growing by $150-200bn a year from pre-pandemic levels over the next decade, said the ETO.
"Investment in renewables has in fact been relatively stable over the past five years – we have not been investing more but we have been getting more from our investment. So we have to invest much more [in wind, solar and storage] to ensure electrification becomes greener and goes further," Eriksen said, pointing to findings that electricity will grow to make up a little under 40% of energy demand by 2050 from the current 18%.
"That needs to go far beyond 40% if we are to reach the Paris Agreement [targets]."
The ETO calculates that around $300bn in capital investment has been made in each of the past five years in wind and solar capacity globally, with expectations, as report lead author Sverre Alvik notes, that investment in clean energy "will triple through to 2050 in absolute terms and grow 2.5-times in grids", spending levels that are "not sufficient but significant".
Eriksen stresses that "from an energy transition perspective, the pandemic has been a lost opportunity" as government recovery packages have "largely focused on protecting rather than transforming" existing industries.
"Renewables have got a lot of push [via government subsidies] over the last 20 years and that is why we are where we are today and why by 2050 80% of electricity globally will be coming from renewables," he said.
"I believe it will now be easier to accelerate this, to incentivise end-use, but… decarbonising hard-to-abate sectors requires far greater scaling of hydrogen and hydrogen-related products such as ammonia and e-fuels.
"We must continue the electrification side, driven by renewables, but at the same time – and this is where we are furthest behind – is on this other side, the heavy emitters," he said, noting that by current calculus hydrogen and e-fuels will cover only 5% of global energy demand by 2050 as aviation, maritime, and heavy industry increase their relative share of emissions in their ongoing use of unabated fossil fuels.
The large question mark hanging over the exact role hydrogen will play in a gearing-up the energy transition remains problematic, according to the ETO, as the report highlights that "most hydrogen" will be green, that is, produced from renewables-powered electrolysers, by 2050, but the blue, gas-fired variety will only be losing its "cost advantage" by that year – far too late, according to many experts, to be of benefit to the shift away from a fossil fuel-powered global energy system
"Green hydrogen will dominate over time, with 18% of hydrogen supply produced via electrolysis from cheap grid electricity and 43% from electrolysis using dedicated off-grid renewables [by mid-century]," said the ETO report, "[with] blue losing its cost advantage, providing only 19% of hydrogen supply for energy purposes [by then]."
Engagement by the international oil & gas industry in accelerating the global energy transition through the use of hydrogen, CCS and renewables-power hydrocarbon production, said Eriksen, "will be where the game will be won or lost".
"The key things for international oil companies [IOCs] is to, one, help development of more renewables – increasingly bringing to bear their competences and capital and project experience on new energy developments because not all IOCs and NOCs [national oil companies] are in this play yet – and, two, to reduce emissions from their own operations.
But he highlights that the oil industry must also look beyond emissions reduction and influence changes that will cut the carbon impact "of the end-products made with their product".
"The oil majors need to engage more in that discussion, how to reduce the end-product emissions, not just their 'own' emissions."
With two months to go before the UN's COP26 climate change conference in Glasgow, Scotland, Eriksen believes the time is ripe for a "fundamental" shift toward a global pact on accelerating the energy transition, driven by a "very different" level of public recognition about the urgency of climate action.
"The difference now [compared to Paris in 2015] is that the public awareness around climate change and the energy transition is very different. So I think the 'audience', if you like, for COP26 is a very different audience than it was a few years ago."
The central message that will need to be acted on, he concludes, is that "this [the energy transition] is going to cost in the short-run", [mitigating the worst impacts of climate change] is not going to happen without new investment", he said.
"But in the long-term we are going to use less money on our global energy system as a percentage of GDP [gross domestic product]. To get into full transition mode and particularly to decarbonise the hard to abate sectors we need to invest in the next five to ten year - through subsidies, finance mechanisms, carbon taxes."
The rise and rise of wind and solar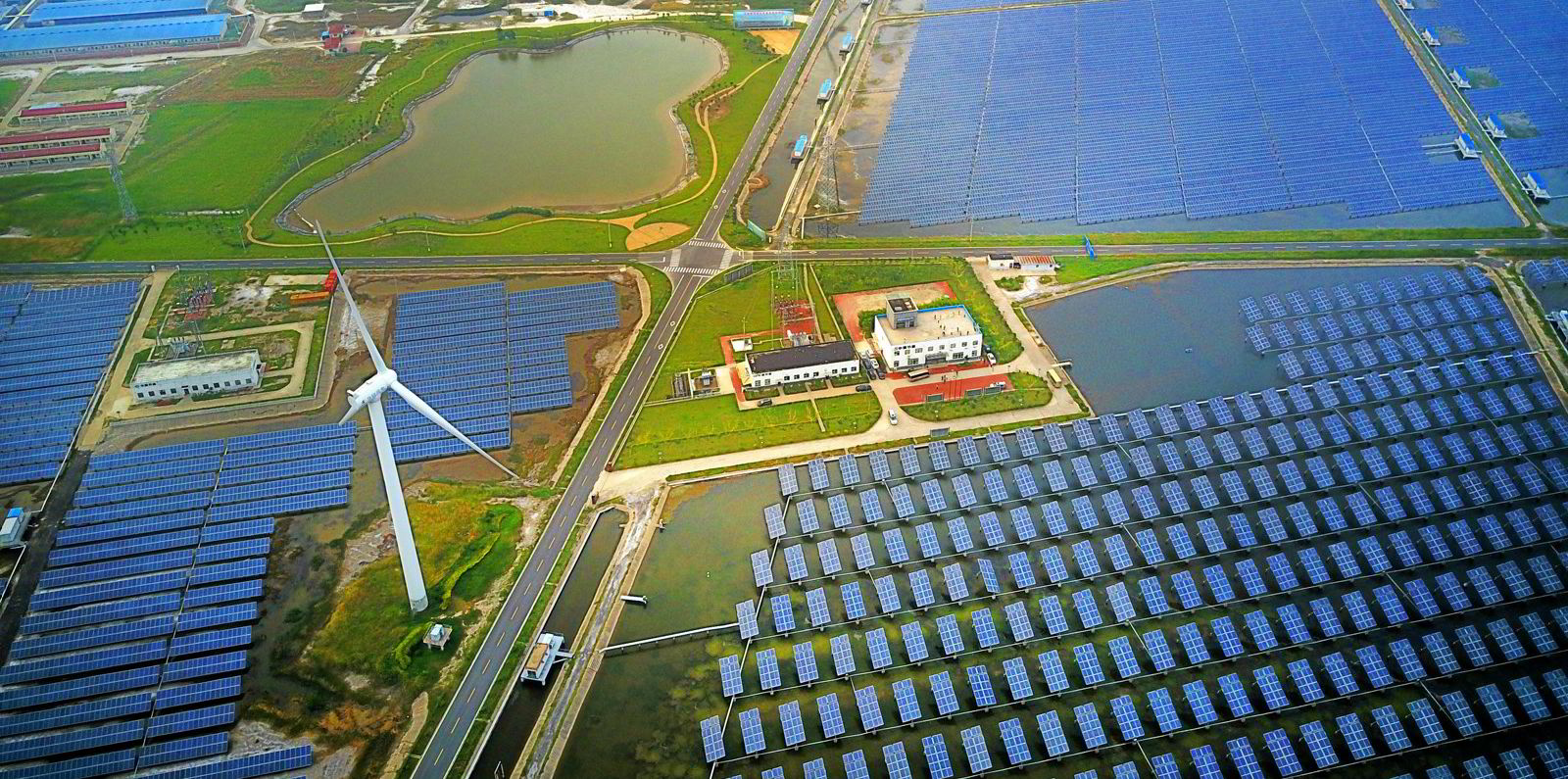 Wind power is forecast to shoot up from having provided 5% of the world's electricity output in 2019 – "almost exclusively" from onshore projects – to 33% by mid-century, according to DNV's Energy Transition Outlook (ETO) as generation explodes from 1,420TWh/yr to 19,000 TWh/yr.
Land-based production will grow eight-fold by 2050 as it outcompetes fossil sources on cost from the current decade onwards, while offshore output is expected to see an updraft of "strengthened support" in developed countries that previous suffered Nimbyist opposition to onshore machines, by 2050 accounting for 40% of total sector plant compared to 6% in 2019.
Global wind capacity additions will grow from 60GW/yr in 2019 towards 340GW/yr by mid-century, according to DNV calculations for the ETO, as installed capacity swells from 709GW at the beginning of 2020 to 5.9TW in 2050, of which 1.7TW will be offshore, with floating projects totalling 264GW.
Grid-connected PV is expected to grow from 3.2% of global grid electricity generation in 2019 to 36% by 2050, as installed capacity increases 20-fold to reach 11.5TW in 2050. In 2020, new PV installations totted up at a record 129GW. From 2030 onwards, the ETO expect annual additions of 300-500GW.