French oil & gas contractor Technip was firmly in the vanguard of the emerging floating wind industry in 2012, with an innovative vertical-axis-turbine-topped semisubmersible concept called VertiWind heading for prototyping and work on a spar design already under its belt through the pioneering Hywind pilot off Norway. Then the programme was shut down, the board of the company unconvinced by the economics of the then-still-experimental technology.
Ten years on, a lot has changed in offshore wind. And Technip is back, brandishing a new-look floating concept for 12-20MW machines and a new name, Technip Energies — and with a full-scale flagship slated to be in the water "no later than 2025".
"It is good to be back in the business today," says Willy Gauttier, the company's vice-president for floating wind, who describes the initial move into the sector as "almost like a false start".
The rationale behind its return to floating wind, he tells Recharge in an exclusive interview, is "made up of different elements": first, the split from sister company TechnipFMC earlier this year, which freed Technip Energies to pursue offshore activities in the floating space across the energy industry; second, new management, led by CEO Arnaud Pieton; and third, "an opportunity to put the energy transition at the heart of our strategy for the future".
Past will still inform the present, Gauttier notes, pointing to the contractor's long history in offshore oil & gas. "We have a lot of expertise in floating facilities – FPSOs [floating production, storage and offloading oil vessels], FLNG [floating liquefied natural gas] and so on – and we aim to transpose all these decades of know-how into floating offshore wind," he says, nodding to the wider trend among oil sector peers, including SBM, Aker Solutions and BW Offshore, that are translating floating skill-sets for a new energy sector on the cusp of international industrialisation.
But, he acknowledges, with offshore oil fields generally calling for one or two floating production platforms versus the 50-100 units a floating wind farm will be built around, it will be "an adaptive challenge" for Technip Energies to rethink its design methodology as the sector's lead-off demonstrators give way to maiden utility-scale arrays and fully-fledged first auctions move ahead, in countries such as Scotland, France and the US.
"This is certainly one of the main challenges we have ahead of us," says Gauttier. "But we are beyond the time of pilots and demonstrators; we need to move quickly to industrial scale and no one to this point has shown they can manufacture at this scale in an economical manner.
"Industrialisation is where have to go — so [manufacture of floating units] can be replicated in a number of key countries — but this needs to be done in an adaptive way too so that we account for local content, which is very important for many reasons. This is our priority at Technip Energies."
This balance will require creativity, Gauttier adds, to fashion floating wind designs that are "optimised both from an 'aero-hydro' as well as from construction points of view".
Technip Energies is betting on a design called the INO – a traditional three-column steel semisub developed by its subsidiary Inocean that has already been though a battery of tank tests in Norway – which is slated to be launched as a 12MW unit, but will "very soon after that" be scaled up for 15-20MW turbines.
Industrialisation is where have to go but this needs to be done in an adaptive way
The design is devised around modules that could be fabricated at a wide range of yards around the world, in Asia and elsewhere, and shipped to port facilities near a project site for assembly and float-out.
"We believe this INO concept will be efficient, good in the short-term, but for the medium- to long-term I'm sure there will be other, new designs in our portfolio.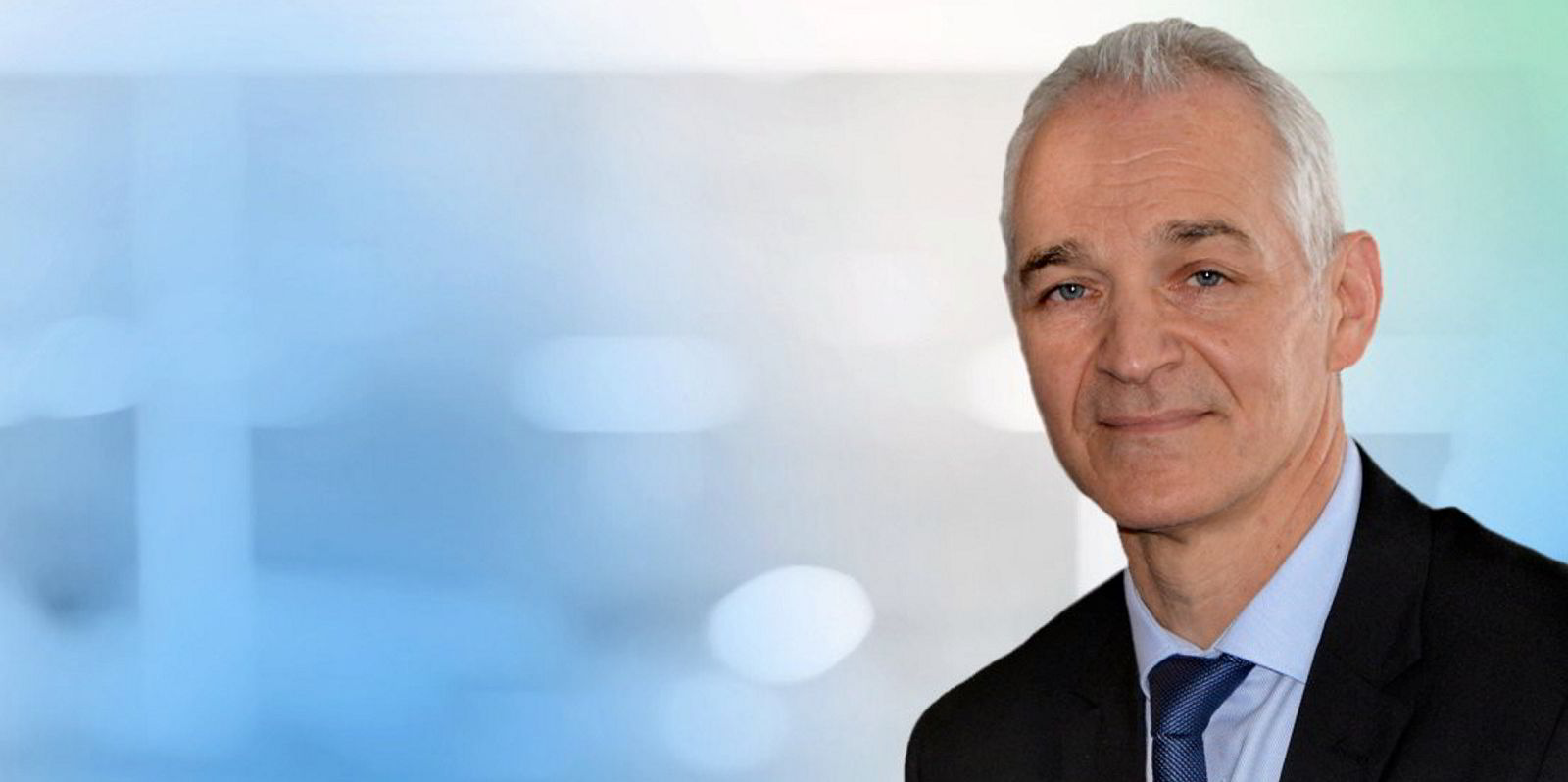 "I think there is a growing recognition that we [as a sector] will have to innovate next-generation designs on and on to keep ahead of the game, to adapt our concepts to different conditions, from the North Sea to cyclonic areas in Asia and so on."
Referring to rival new-model platforms from Stiesdal Offshore, X1Wind, Saitec and others, he notes: "I am believer in disruptive concepts.
"If tomorrow we see a project that merits a new type of spar concept… as we did for the Hywind demo, we would definitely have that capability and could propose such a concept too."
Technip Energies may be starting with a "robust, classical" floating wind design, but it will be looking to ongoing collaboration with Inocean, along with group companies Genesis and Cybernetix, to hatch the next-generation models that will become the mainstay as the sector expands its influence to include green hydrogen production and offshore oil & gas decarbonisation projects.
"These affiliates are part of the overall jigsaw we are building for floating wind – from Genesis as an 'early engagement' engineering consultancy that can assist in everything to EIAs [environmental impact assessments] to hydrogen applications to Cybernetix, which focuses on projects from a 'life of field' vantage point, including technology monitoring services and operations and maintenance."
The INO, now moving "full steam ahead" on design certification under the watchful eye of classification authorities Bureau Veritas and DNV, is expected to leapfrog the pilot stage and go straight to a "first in series" model that will be used to "validate the new industrialisation approach we are exploring" at a permitted site.
"The market is clearly calling for this range of floating unit, 12-15MW — and some developers we know are looking at permitting envelopes for 20MW-plus turbines," notes Gauttier.
Technip Energies foresees announcing the maiden site for its 12MW INO "within six months" and having the turbine turning "by 2024 or at the latest 2025".
"We are late entering this market; we are trying to catch up. But once we do, I know we will quickly be working on designs for the [offshore] wind farms of 2030 — and they will look nothing like the ones today," says Gauttier.
What appears certain, however, is that floating wind will increasingly take on the role of Swiss Army knife of the offshore energy transition, wired-in to power banks of hydrogen electrolysers on substations or energy islands or, equally, linked to operating oil platforms at sea to curb emissions.
"Either – both – have the potential to make a lot of sense [for an offshore industry in transition]," says Gauttier.
"I am a big believer in electrification — and this applies to both hydrogen production and oil operation decarbonisation," he adds, pointing to the Scottish Crown Estate's recent decision to award acreage neighbouring offshore oil platforms for sub-100MW floating wind arrays, in time with its landmark ScotWind leasing round.
"There will quickly be a market there. We are actively looking at offerings involving 30-50MW of installed power [from a floating array]."
Technip Energies already has a toe in the water testing the potential for floating wind-powered offshore oil production, having signed a memorandum of understanding with Azerbaijan state-owned operator Socar to explore a pilot in the Caspian Sea.
Floating wind's market dynamics are bullish, with the Global Wind Energy Council this autumn upgrading its 2030 forecasts to 16.5GW from the 6.5GW it was anticipating only a year ago, and DNV expecting more than 260GW to be online by mid-century.
"It is really a worldwide market, that's clear," says Gauttier. "Our focus is on France for its first [250MW] tender, South Korea, where there are several tenders coming; also the UK/Scotland, the Mediterranean basin – Italy is suddenly materialising [as a market], Spain will move quickly soon, Greece is bubbling up. Then of course there is the US, the west coast, that is."
Speeding up the sector's progress now, in Gauttier's view, is going to be down to new model partnerships, internal and external, that are driven by "integration and collaboration", not least those with the industry's turbine makers, which he reckons are slowly being brought round to a "different way" of working.
"The turbine makers still deliver turbines in the expectation that the floating platform will be 'adapted' to it, rather than [being tailored] to accommodate the huge interactions between the two," he says. "I hope that we will very quickly open collaboration, because to make the industry economically viable we will have to optimise the 'full assembly' — and this will necessitate a good cooperation.
"The rationale coming back is built on competencies — from EIAs to EPCI [engineering, procurement, construction and installation]. We believe we can bring a lot to help this industry grow and mature. We are one of the rare few players who can do this.
"This is about delivering volumes now in an economical manner — starting with a first 10-20GW — and I hope our [oil & gas contracting] peers do the same because we need everyone contributing."