Australia is without doubt a leader in the energy transition in Asia Pacific, with one of the lowest renewables cost premiums over fossil fuel in the region, and solar and wind currently accounting for a fifth of total power generation.
That is quite an impressive feat, considering the average share of renewables in the region's power generation stands at 9%. However, this has caused transmission constraints and added pressure on grid reliability. Australian utilities and regulators are looking to battery storage as a solution.
To replace ageing coal plants and ensure power security and reliability, Australian companies have announced ambitious plans to build 9.2GWh of battery storage projects over the next two years. This is a 19-fold increase from the current 0.5GWh in operation. To date, only 4% of projects have started construction. As the clock ticks, the industry is facing some major challenges, particularly the risk of project delays and cancellations.
It will be challenging to meet the announced timelines based on project experience. Historically, sub-30MWh scale battery projects take 16 to 21 months to complete and connect to the grid.
Those larger than 100MWh will likely take 1.5 to 2 years to come online. Yet the average project size has now hit 415 MWh, with the largest being Origin Energy's 700 MW/ 2800 MWh facility in New South Wales. For the entire pipeline to be operational by 2023, these big battery plants would need to close project financing this year. Any misstep in financing, supply chain costs or expected revenue would lead to projects delays or cancellations.
Who will fund $3.9bn pipeline?
Developers are counting on falling costs and public support, but the government has announced that it will scale back from such a high level of support. For existing operational projects, federal/state government support and private sector co-financing have been the primary investment drivers.
Public research funds from ARENA have made up 32% of investment value. Private investment accounted for less than 29% of the current operational capacity. Wood Mackenzie estimates the new battery project pipeline will require a minimum of $3.9bn.
Up until last year, 71% (332MWh) of storage capacity was owned by utilities or contracted by the state governments for power backup. State governments also pay storage developers (such as Neoen) up to A$5m ($4.9m) annually for securing summer power capacity. Developers have also accessed low-interest debt from the Clean Energy Finance Corporation, a government-backed bank established to facilitate increased finance flows into the clean energy sector.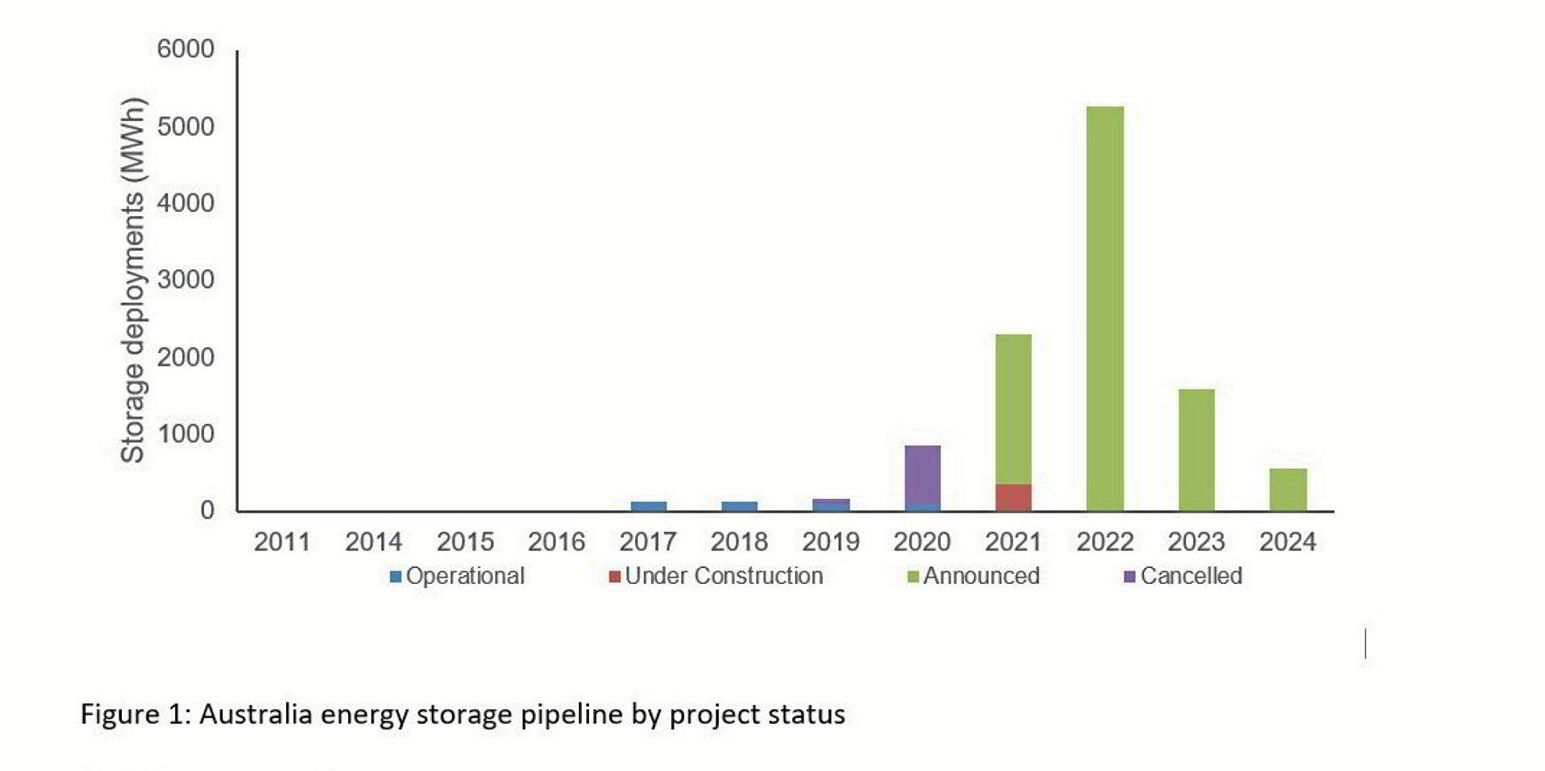 Lower power market prices and uncertain revenue from the National Electricity Market (NEM) could make it harder for developers to secure project financing. The NEM and long-term power purchase contracts could be attractive but full of uncertainty on settlement prices. As more new entrants rush into the market, prices could be depressed further. Based on these trends, battery storage projects could face serious economic and financing challenges that the government is unlikely to fully solve.
Our recent forecasts show that battery storage capex would fall to $900 per kilowatt for a 2-hour NMC storage this year. However, this outlook for declining capex costs for front-of-the-meter projects could be under threat. Lithium carbonate prices have gone up by 30% between December 2020 and February 2021, which in turn pushed lithium-based battery prices up by 8-10%.
It is unlikely that developers have taken such trends into account when planning. For reference, a 1% increase in storage price will require an extra investment of $39m for the 9.2GWh project pipeline.
EV pressures
Further tightening the battery supply chain is the growing momentum in electric vehicles (EV) which use about 90% of the world's batteries. At the beginning of 2021, battery vendors are already at full capacity supplying EV batteries due to a market acceleration in Europe and China. Are battery vendors ready to meet the demand for the rapidly growing EV and energy storage markets while bringing down costs? If additional cheap supply is not found, storage developers in Australia will face increasing challenges to move projects forward.
If additional cheap supply is not found, storage developers in Australia will face increasing challenges to move projects forward.
In conclusion, we expect about 80% of Australia's planned battery storage pipeline to come online over the next two years, or an additional 7.3 GWh of storage capacity. Closure of ageing coal plants and support for renewables are key drivers pushing state governments to step up. However, supply chain tightness from a booming EV market and uncertainty on government support creates a downside risk.
The project financing and increasing battery costs could impact private project kick-off, which could further cause project delays or cancellations. Trends in battery price and supply chain are key to watch in 2021.
As more projects become delayed, NSW could face potential delay to the planned closure of the Liddell coal plants that make up 35% of NSW's power generation capacity. Also, 66% of NSW's new battery installations come from Origin Energy's giant 2.8GWh project. If the project cannot close financing in 2021, NSW may face volatility in power markets, power shortages, or even blackouts. This will be a crucial test of Australia's energy transition plans to move away from coal.
Le Xu is a senior analyst at Wood Mackenzie