A Belgian company that plans to import millions of tonnes of renewable hydrogen into Germany in the form of green methane says it will accelerate its plans in the wake of the Ukraine crisis.
Hydrogen: hype, hope and the hard truths around its role in the energy transition
Will hydrogen be the skeleton key to unlock a carbon-neutral world? Subscribe to Accelerate Hydrogen, powered by Recharge and Upstream, and get the market insight you need for this rapidly evolving global market.
Tree Energy Solutions (TES) now aims to complete a new "green gas" terminal at the port of Wilhelmshaven, northwest Germany, to accept deliveries of its "carbon-neutral" liquefied e-methane before the winter of 2025, having previously targeted a 2027 start.
This CH4 — which would be produced by combining captured CO2 with low-cost renewable hydrogen using the well-established Sabatier methanisation process — would then be converted back to H2 or, in some cases, used as methane with carbon capture.
In the short to medium term, this "green energy hub" would also import liquefied natural gas (LNG) in order to reduce Germany's reliance on natural gas piped from Russia.
"The fast-tracking will provide for alternative energy security for Germany and Europe whilst accelerating the growth of green gas imports over time," the company said.
Chancellor Olaf Scholz announced on Sunday that Germany planned to build two new LNG terminals, including one at Wilhelmshaven, but that is reportedly a mothballed project developed by utility Uniper.
"TES believes that its fully sustainable Wilhelmshaven project deserves at least the same if not stronger support compared to alternative traditional LNG terminal initiatives considering the concurrent climate-crisis," said TES managing director Paul von Poecke.
Why green methane?
The project is the first large-scale plan to use synthetic methane as a carrier for green hydrogen. It is also the first such project that Recharge has seen that aims to use carbon dioxide in an international "closed loop".
The e-methane — so-called because it is produced from electricity — will be split back into hydrogen and CO2 using autothermal reforming (ATR), a process normally associated with blue H2 derived from natural gas with carbon capture and storage (CCS).
Roughly 99% of the CO2 emitted would be captured, liquefied and shipped back to the original production site for re-use in the next batch of e-methane — in the same vessel used to import the synthetic gas, TES tells Recharge.
The company wants these ships to be powered by LNG with onboard carbon capture — a technology still being developed — and use that CO2 in its e-methane.
This might sound like a complex and expensive set-up, but according to chief commercial officer Otto Waterlander, the resulting green H2 would be cheaper than any renewable hydrogen produced in Germany — or any other H2 shipped into the country using alternative methods.
"We think it's more economic [than other methods] and we think it's very efficient,"he tells Recharge, explaining that methane holds more hydrogen by volume than other transportation options such as ammonia, methanol or compressed or liquefied H2.
"We have done an evaluation of this route against alternative routes [for green hydrogen imports], and we think that in our route, we are 30% more cost efficient than the ammonia route.
If e-methane is the cheapest carrier for green hydrogen, why are other developers not planning to use it.
"I would say it's still day one [in green hydrogen]," says Waterlander. "Nobody is actually doing anything at scale yet... we're still figuring out a lot of things.
"We haven't really talked about this [publicly while] we've been quietly developing the company. But I do expect it will get a fast following [by other companies]. And I think, ultimately, fast following will help us."
He points out that e-methane can use the same equipment as natural gas for liquefaction, regasification, pipelines and vessels, so "we are using a large part of an existing energy system". This will help keep costs down, compared to large-scale use of other hydrogen carriers.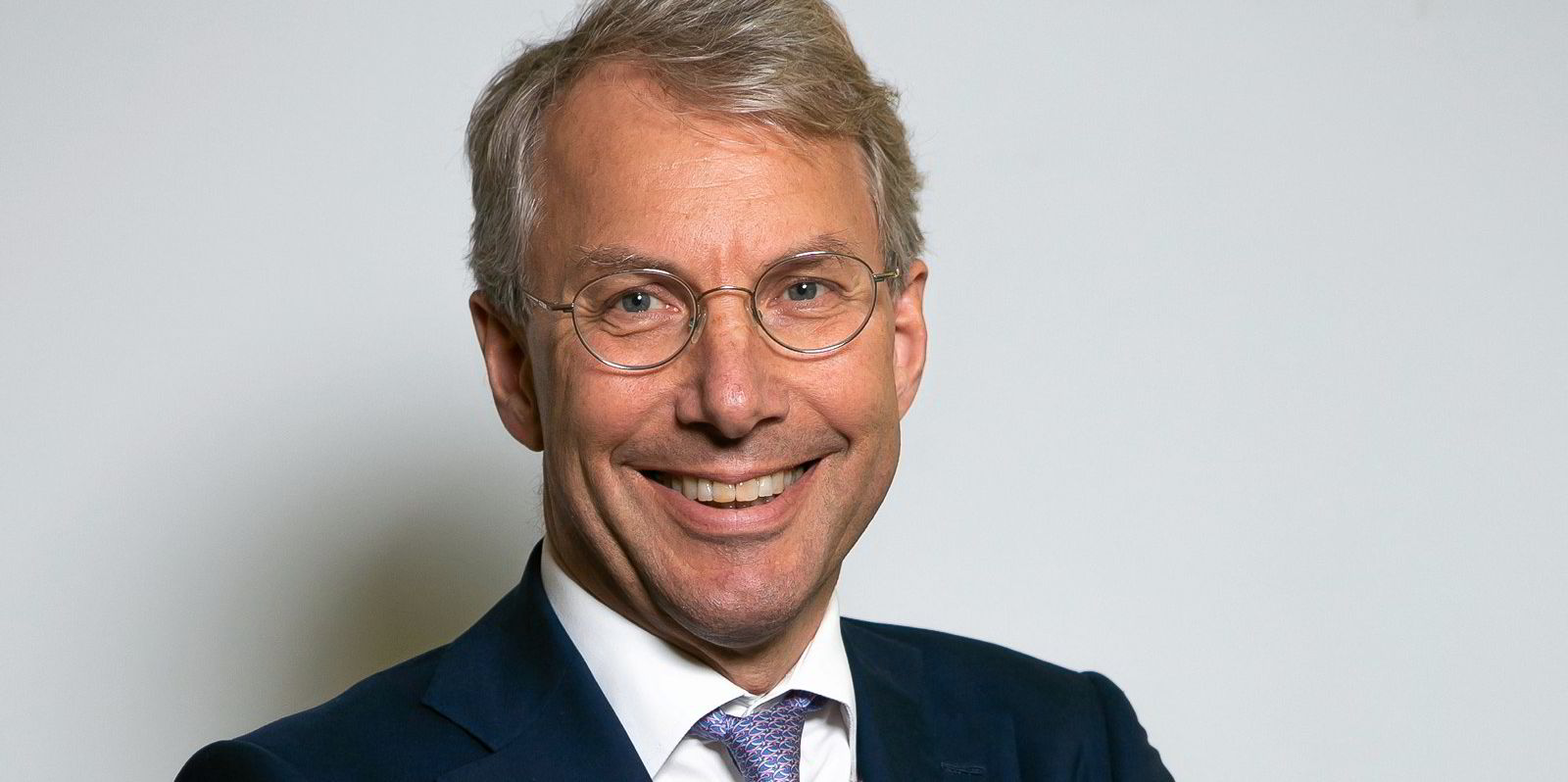 TES plans to use low-cost solar PV with molten-salt storage — an as-yet commercially untested proposition — in sunny parts of the world, such as Africa or the Middle East — to produce 24-hour renewable electricity that would power electrolysers around the clock.
The more hours per day an electrolyser is in utilisation, the lower the levelised cost of hydrogen.
The resulting H2 would then be combined on site with CO2 captured from nearby industrial processes, with that e-methane then being liquefied at temperatures of minus 162°C, loaded onto an LNG-type vessel and shipped to Germany.
Development work on two green hydrogen projects is already well under way, says Waterlander, declining to say where they are, citing commercial sensitivities.
"So we will start building initial [solar] parks with about 2GW electrolyser capacity and then we will modularly scale them up," he explains.
TES hopes that by 2045 the project can supply more than five million tonnes of green hydrogen into Germany every year, equating to roughly 10% of the country's primary energy demand.
What happens next?
Announcing ambitious plans is easy, but making them happen is far harder.
Waterlander bristles at any suggestion that the project might not go ahead as planned, pointing out that it has been under way — largely in stealth mode — since 2019.
An independent technical study is almost complete that will confirm that the CO2 circularity will "have real impact and that this is not greenwash"; TES is now negotiating offtake agreements with "large-scale customers" after signing almost 20 memoranda of understanding; while Waterlander is in no doubt that funding will be found — after all, its parent company is AtlasInvest, a Brussels-based private energy-focused investor.
"We have some of the world's best funders on board in TES and we think that, ultimately, once you bring forward the project at scale, demonstrate the economics and the contracts, then we can get the funding organised," says Waterlander.
"We may need some guarantees and in particular, if we need to accelerate, we need guarantees. We will also apply here and there for some subsidies, but we want to actually push forward as fast as we can to start supplying the green gas into the market."
Waterlander says the company hopes to make a final investment decision on the project by the end of this year.
Not too green initially
There is one aspect of TES's plans that it is not shouting from the rooftops — in the initial stages of the project, green methane will represent less than 4% of the 500,000 tonnes of embedded hydrogen arriving at Wilhelmshaven, the rest will be standard LNG.
This is simply because the company will not be able to build green hydrogen projects fast enough to produce higher volumes by 2025.
But Waterlander does state that the majority of this LNG would be used to produce blue hydrogen using the ATR process, and carbon capture.
The proportion of e- methane will be increased over the following years, in nine further stages, as green H2 production capacity is built up. By 2045, the project will provide about 5.5 million tonnes of renewable hydrogen to Germany, he explains.
"[We will] have blue [hydrogen] for a little while... as a transition model, but we will not do blue as an end model."