Capital investment in fossil fuel production that had begun to decline during the Covid-19 pandemic "bounced back" last year with $570bn now forecast to be spent yearly on new oil and gas projects through to 2030 – this in the face of calculations that $700bn will need to be "redirected" annually into renewables to get the world on track with Paris Agreement climate targets, according to latest figures from the International Renewable Energy Agency (Irena).
The worldwide capital spend on the energy transition reached a record $1.3trn last year, up almost 20% on 2012, with an all-time-high $500bn flooding into renewables projects, said Irena in its Global Landscape of Renewable Energy Finance 2023 report, produced with think-tank Climate Policy Initiative (CPI).
But fossil fuel investment levels that had been shrinking in 2020 – down 22% from $1trn the year before – rose 15% in 2021 and reached $953bn in 2022.
"Ongoing global crises present both a challenge and an opportunity for the accelerated deployment of renewable energy," said Irena director-general Francesco La Camera. "The tighter fiscal space and uncertain macroeconomic outlook are negatively impacting flows of investment towards renewables, while the present energy crisis is forcing countries to urgently deploy alternative sources of energy that are sustainable, reliable and affordable.
"Meanwhile, 733 million people had no access to electricity and nearly 2.4 billion people relied on traditional fuels and technologies for cooking at the end of 2020," he added.
CPI managing director Barbara Buchner said: "The path to net zero can only happen with a just and equitable energy transition. While our numbers show that there were record levels of investment for renewables last year, a greater scale-up is critically needed to avoid dangerous climate change, particularly in developing countries."
"The report… finds that, although global investment in renewable energy reached a record high in 2022, this still represents less than 40% the investment between 2021 and 2030," said La Camera. "Investments are also not on track to achieve the goals set by the [United Nations] 2030 Agenda for Sustainable Development."
By Irena's calculus annual investment in the energy transition need to "at least quadruple" to $5.7trn a year from 2021-2030, and$ 3.7trn between 2031 and 2050 to reach the agency's 1.5°C Scenario.
In accelerating renewables build-out, particular emphasis should be placed on the 'off-grid' renewables sector, which saw $500m in new spending – far off the $2.3bn forecast needed to reach UN sustainable development goals.
Behind this, said Irena, were the "glaring global disparities" between energy transition spending in developed versus developing regions, with 70% of the world's population seeing only 15% of total investments in 2020.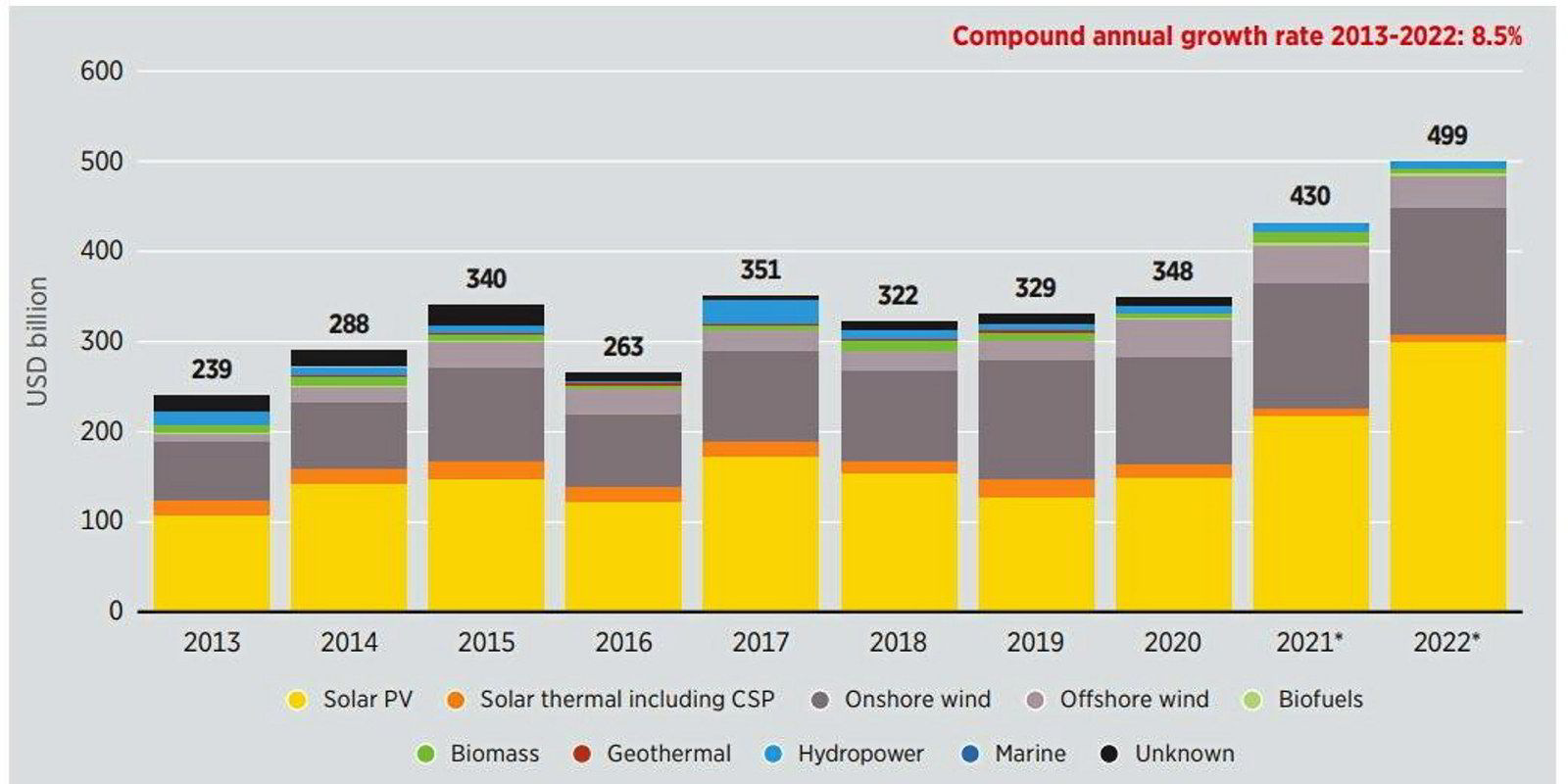 "Since decentralised solutions are vital in plugging the access gap to reach universal energy access to improve livelihoods and welfare under the 2030 Agenda, efforts must be made to scale up investments in the off-grid renewables sector"
Irena flagged the "continued" subsidy support that the fossil fuel industry receives, with levels doubling in 2021 across 51 countries from $362bn to $697bn. "The phasing out of investments in fossil fuel assets should be coupled with the elimination of subsidies to ensure that the full costs of fossil fuels are reflected in their price and to level the playing field with renewables and other energy-transition-related technologies," said the report authors.
"However, the phaseout of subsidies needs to be accompanied by a proper safety net to ensure adequate standards of living for vulnerable populations standards of living for vulnerable populations."
The agency also pointed the finger at the "large multi-national banks [that] maintained and even increased their investments" in fossil fuels, at an average of about $750bn a year.
Irena called for "stronger international collaboration [to] reform" lending practices underpinning renewables investment in developing nations to help speed the global energy transition, including a "substantial increase in financial flows" from the Global North to the Global South.
"For the energy transition to improve lives and livelihoods, governments and development partners need to ensure a more equitable flow of finance, by recognising the different contexts and needs," said La Camera.
"This joint report underscores the need to direct public funds to regions and countries with a lot of untapped renewables potential but find it difficult to attract investment. International cooperation must aim at directing these funds to enabling policy frameworks, the development of energy transition infrastructure, and to address persistent socio-economic gaps."