The world is heading for a turbulent period of energy transition where constraints on the supply of critical materials are increasingly likely to slow the pace of change, according to an influential new study.
US consultancy giant McKinsey & Co forecast shortages of critical minerals in both high and low-paced energy transition scenarios and found that access to materials will slow the delivery of wind turbines and solar panels while also restraining output of electric vehicles.
In the case of dysprosium, a rare-earth element (REE) used in many electric motors, there is a risk of supply falling as much as 70%, McKinsey said in a report published today (Thursday).
Among the higher volume minerals, nickel — used in lithium-ion batteries — is expected to fall between 10% and 20% behind demand by 2030, McKinsey found.
The report suggested that the approximately 500 cobalt, copper, lithium and nickel mines operating today will need to increase by between 40% and 80% to meet demand for batteries, depending on the McKinsey demand scenario applied.
A brake on decarbonisation
Without decisive mitigation actions, such shortages could raise supply-chain costs for lower-carbon products, slowing the affordable transition to lower carbon alternatives and causing price volatility across materials, the report suggests.
This could ultimately increase greenhouse gas emissions by between 400 million and 600 million tonnes during the remainder of the decade, it warned.
Shortages of dysprosium and terbium, magnet materials used in electric vehicles and wind turbines, were identified as as primary causes of this increase beyond earlier projections which, McKinsey said, "shows that bottlenecks in just one or a few materials can delay the deployment of lower-carbon technologies across multiple industries.. and thus slow the transition to net-zero emissions".
The assessment showed that most materials within the scope of the report will face a shortage by 2030, across all scenarios.
"Most battery materials, especially lithium and cobalt, will continue to be constrained despite ongoing shifts in battery chemistry, including the reduction in cobalt intensity and the partial shift from nickel-manganese-cobalt (NMC) toward lithium- iron-phosphate (LFP) batteries," McKinsey stated.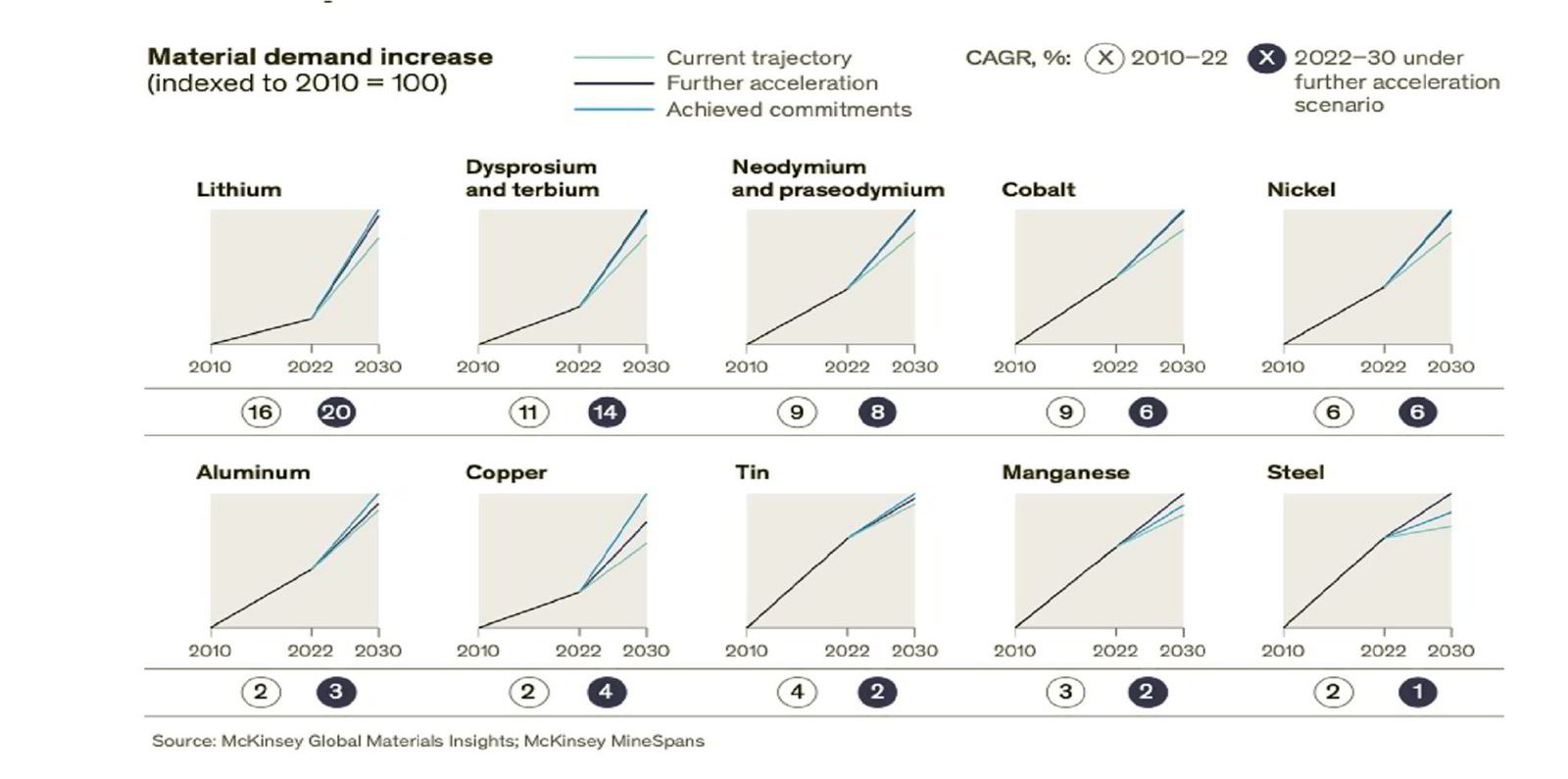 Among the list of elements likely to fall short of supply were copper, crucial to the speedy build-out of transmission and distribution lines needed to connect renewable power sources to grids and thus a major risk factor for renewable energy investment, as well as iridium, a rare element used in many hydrogen electrolysers and tin, used as solder in semiconductors.
Trillions needed
McKinsey estimates that between $3tn and $4tn of investments in mining, smelting and refining are needed to meet the shortfall in supply, with annual spending demands for $300-$400m some 50% higher than last decade.
The report noted that there is little problem of scarcity among critical minerals, and found that resource bases and reserves are at their highest levels since 2000, but argued that building up capacity will be no easy matter.
Challenges identified included timely delivery of permits, availability of skilled labor, closing of project financing, timely delivery of equipment, adequate infrastructure investments, availability of fresh water for processing brine-based lithium, other and a stable regulatory framework.
"Because it typically takes five to 15 years—depending on the material, project characteristics, and regulatory environment—to develop new deposits from exploration to mining operations, temporary materials shortages could occur if demand growth outpaces initial industry expectations," the report stated.
Supply chain constraints were also detected among inputs required in the processing of critical minerals, such as sulfur, which is used in refining nikel, lithium, manganese, and copper, but is already 5% short of meeting demand with supply, the report said.
Ironically, one of the reasons for this shortfall is the desulphurisation of oil and natural gas, McKinsey suggested.
Regionalisation not globalisation
Geopolitical tensions were very much on evidence this week when China retaliated against US-led restrictions on sales of semiconductor technology by restricting its own exports of gallium and germanium, metals used primarily in chipmaking and communications, but also relevant to the energy and automotive sectors.
McKinsey said there will continue to be a high concentration of mineral and metals supplies in a handful of countries, including China (rare-earth elements), the Democratic Republic of Congo (cobalt), and Indonesia (nickel) and warned that a growing regionalisation of access to could ultimately hinder the "materials transition" that is a fundamental part of the transition to a net zero emissions global economy.
"The industry will need to ensure security of supply in a context of a high concentration of mining and refining supply in select countries and a changing regulatory landscape that is increasingly focused on regionalisation, recently exemplified through policies or legislative proposals such as the Inflation Reduction Act in the United States and the Critical Raw Materials Act in the European Union," it stated.
On the refining side, China is expected to retain its dominant position, processing more than 40% of all materials in scope, although for select materials such as lithium, China's market share is expected to decline from more than 90% in 2021 to 60-70% by 2030.
"Such concentration could also offer opportunities to traditional mining countries to develop refining activities domestically," the report noted/.
With 72 countries covering 82% of global emissions currently committed to net-zero emissions, according to McKinsey's report, pressure is building on the supply chain for key sources of renewable power.
"(The McKinsey report is a clear sign that domestic mineral resources are needed as geopolitical issues impact the mineral value chain needed for the energy transition," wrote Douglas Wicks, project director at the US Advanced Research Projects Agency-Energy (ARPA-E).
Get the Recharge News App
Read high quality news and insight on the energy transition on-the-go