Conferences can be boring. The same people saying the things year after year, executives taking the stage in order to promote their own companies rather than because they have something interesting or important to say.
Last week's Green Hydrogen Global Assembly in Barcelona felt different. This conference had an attitude, a swagger, a purpose. This conference aimed to change the world.
Hydrogen: hype, hope and the hard truths around its role in the energy transition
Will hydrogen be the skeleton key to unlock a carbon-neutral world? Subscribe to Accelerate Hydrogen, powered by Recharge and Upstream, and get the market insight you need for this rapidly evolving global market.
It introduced an industry-agreed Green Hydrogen Standard that set a strict definition for what can be labelled as 'green hydrogen', along with an independent certification process to back it up — potentially a key turning point in the commercialisation of renewable H2.
The organisers, the Green Hydrogen Organisation (GH2), also announced an ambitious global campaign — aimed at COP27 — for 100 million tonnes of green H2 to be produced annually by 2030, up from less than 100,000 today.
And with government ministers present from eight pro-hydrogen countries — Spain, the UK, South Africa, Chile, Argentina, Colombia, Oman and Namibia — and remote participation from US and Chinese chief climate envoys John Kerry and Xie Zhenhua, such moves will not go unnoticed around the world.
While doubts were raised over whether such a target was realistic, discussion on the usage of H2 and policy enablers were largely grounded in reality. There was a general consensus that green hydrogen should only be used in hard-to-abate sectors such as steel, shipping and aviation, and that everything that can be electrified should be. This meant almost zero support for hydrogen heating or cars — despite fuel-cell car maker Hyundai being an event sponsor — although, perhaps controversially, long-distance trucks were widely included as a hard-to-abate sector.
Even a session on blending up to 20% hydrogen into the gas grid — which could reduce emissions by 6-7%, albeit while driving up energy bills for consumers — did not see panelists supporting such a move. This left Cambridge University professor David Cebon, a participant at that session and founding member of the Hydrogen Science Coalition, to declare after the event: "It seems that blending is falling off the green hydrogen industry's agenda."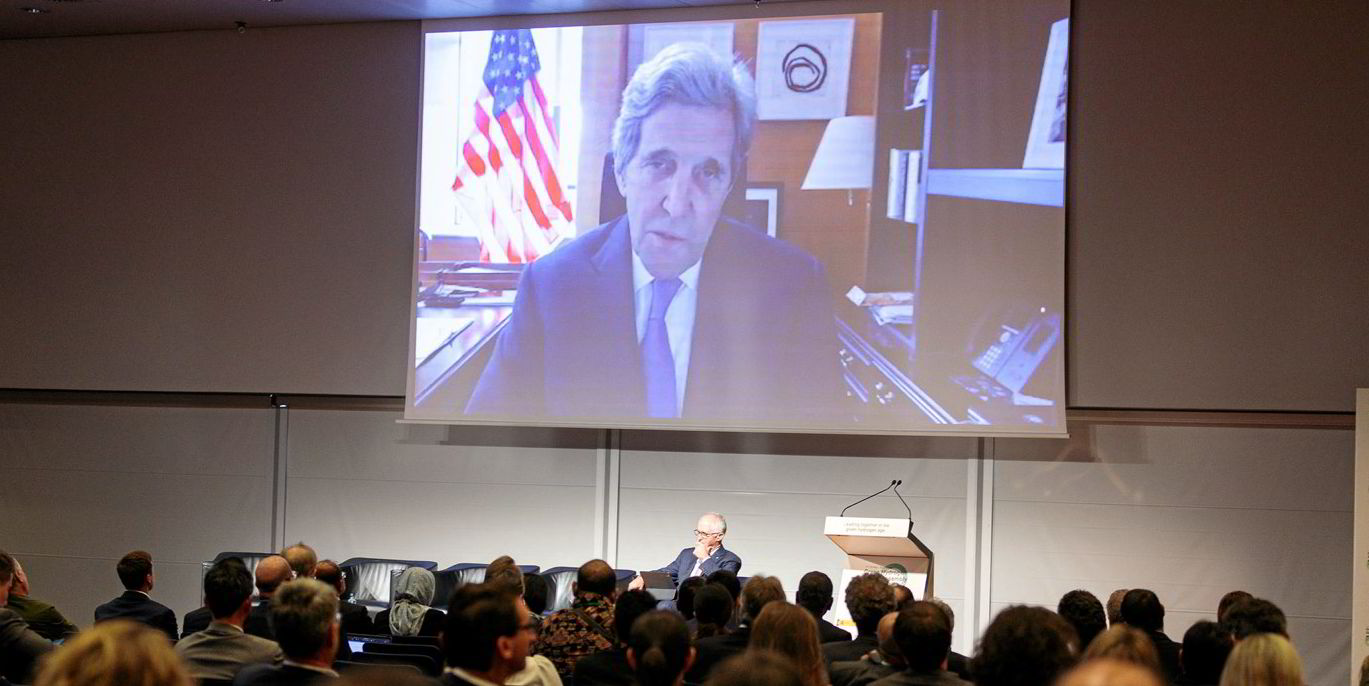 In contrast to other hydrogen events, there were no sponsors or speakers from the fossil-fuel industry, although Marco Alverà, the currently unemployed former CEO of Italian gas network Snam, did participate in one session, in which he declared that he had recently quit his job because "the way these [fossil-fuel] companies are organised won't let that industry get there in time, and as our chairman [of the session] said, we are running out of time".
Further disparagement of the fossil-fuel sector came from man of the hour, Andrew "Twiggy" Forrest, the well-connected Australian iron-ore billionaire, who angrily referred to the hydrocarbon industry's "hideous propaganda" and blue hydrogen proponents as "liars".
Forrest's presence permeated the conference and undoubtedly helped to draw an influential list of speakers. And while technically only a board member of GH2, he seemed to be the driving force behind the entire event and its two key announcements.
Of course, Forrest did provide the seed funding that launched GH2 in August last year, and his company Fortescue Future Industries (FFI) has lofty ambitions to produce 15 million tonnes of green hydrogen annually by 2030. Australia's richest man also spoke on several panels, hosted the opening night reception — where he briefly danced with Spanish deputy prime minister and climate minister Teresa Ribera — while about 50 FFI executives swamped the event, clearly visible thanks to their branded lapel pins and name tags.
"There is a fuel which will save the planet, and it's not hydrogen that can be black or grey or that great fudge, blue, it is what you are declaring as green hydrogen in the next 48 hours," Forrest said at the opening session. "And please don't mistake how important that is."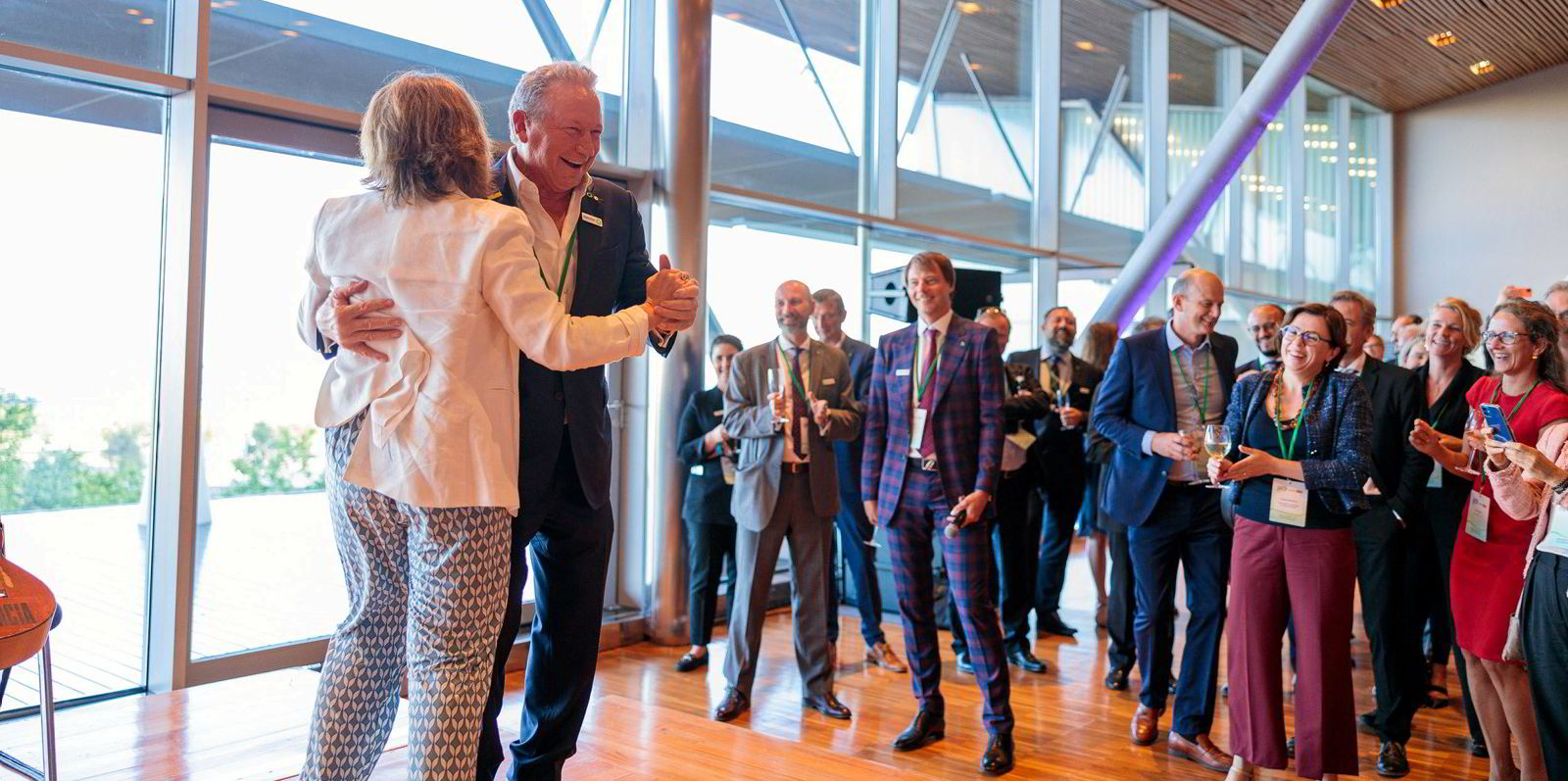 Then at the opening night reception, he loudly declared that blue hydrogen promoters were "liars", describing them as "those people who are prepared to lie to their own shareholders, lie to their own stakeholders, those people who want to keep greenwashing the world as it slowly cooks in temperature".
"Those people are lying to the public, to the communities, to the global public."
An the following morning, he said: "We will march against the hideous propaganda which the fossil-fuel sector is still putting out, and we will instead invest our taxpayers', our public's, our own investment into saving the planet and a better future and a better standard of living than this train crash we will be on otherwise."
The argument against blue hydrogen was not so much about the dangers of upstream methane emissions, but that carbon capture and storage has repeatedly failed to do what it promised.
"I call carbon sequestration for what it is," said Forrest. "I'm a doctor in ecology [he has a PhD in marine biology]. If something fails 19 out of 20 times, or if it's working at 4 or 5% only of the carbon sequestration for which you got your licence to build… then that statistically is a complete failure. It's irrelevant."
GH2 chairman Malcolm Turnbull — the former Australian prime minister who signed the Paris Agreement and was a permanent fixture at the conference — told Recharge in Barcelona that if he was still in government, "I wouldn't put a nickel into [blue hydrogen]".
"How many times do you have to be disappointed by carbon capture and storage? Isn't it the definition of madness to keep on doing the same thing, expecting a different result?"
How to reach 100 million tonnes?
It could be argued that the general view at the conference on a speedy build-up of green hydrogen production was somewhat optimistic.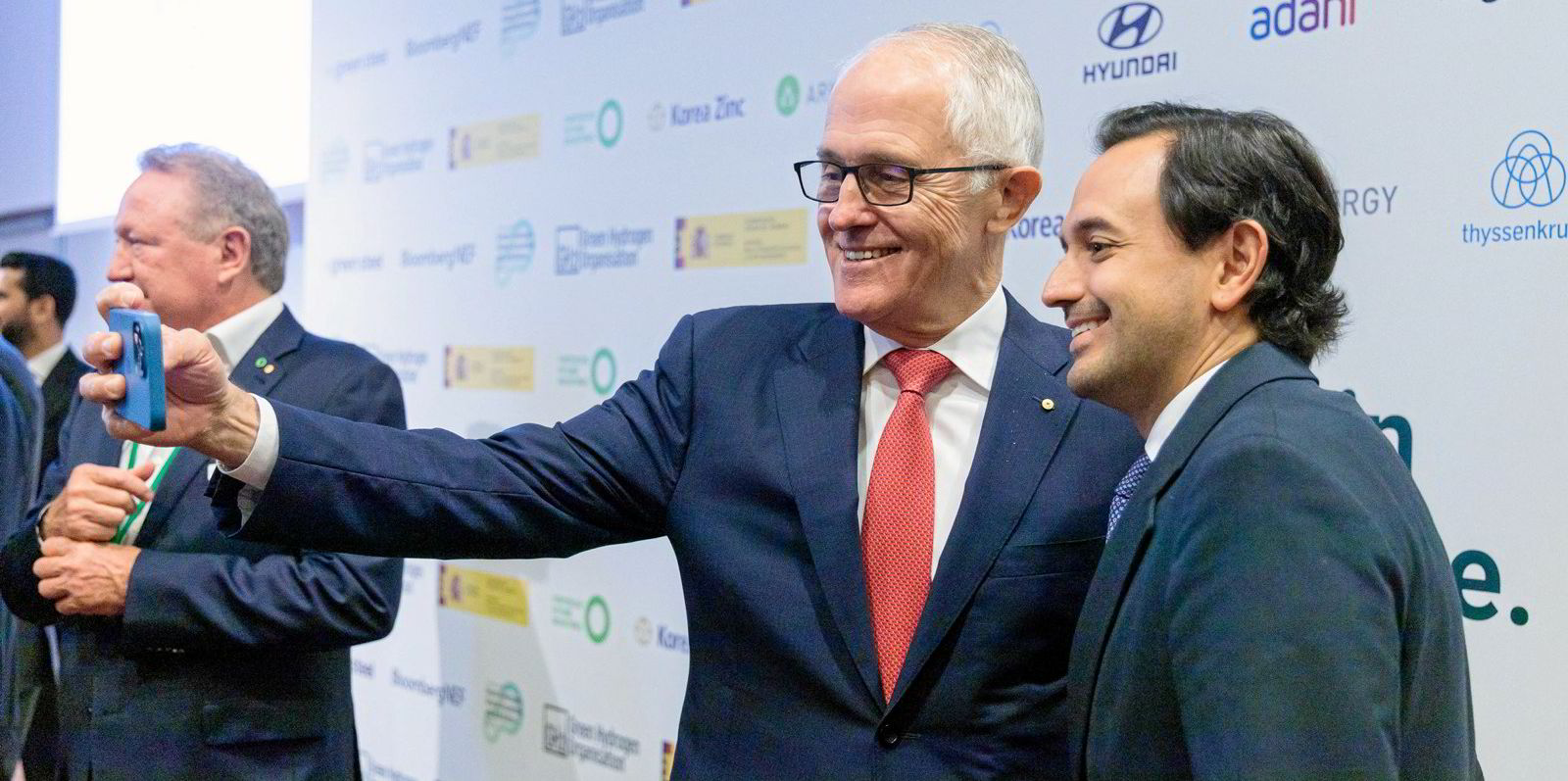 Producing 100 million tonnes of renewable H2 annually by 2030 is undoubtedly what some would call "a stretch", given the global scale up in production of electrolysers, wind turbines and solar panels that would be required — not to mention issues around pricing, demand, land availability and government policy.
Conventional wisdom has long been that green hydrogen would need to be subsidised by government to make it cost-competitive with existing grey H2 made from unabated fossil fuels. But several delegates pointed out that renewable hydrogen would actually be cheaper to produce than grey H2 in most parts of the world today due to high natural-gas prices — and that due to the dash from Russian gas, those prices are not likely to fall any time soon.
Consequently, Recharge did not hear any speaker say that subsidies would be necessary to kick-start the green hydrogen industry, although quite a few said they would be helpful.
"No-one is suggesting that green hydrogen needs to be subsidised," Turnbull told Recharge. "I mean, there is an argument I think in favour of government providing support initially to really to get the business community, in particular, the financial community, comfortable with the risk… for the first generation of projects.
"And then, after that, people will have worked out what the [best] financial model is."
For Lord Adair Turner — the former chairman of the UK Financial Services Authority and the current chair of the Energy Transitions Commission — the bigger concern was a potential lack of demand for green H2.
"I find it difficult to see us get into a 100 million tonnes [of demand] unless a big part of that comes from existing uses of hydrogen — because it will just take time for steel or shipping [to switch to H2 or its derivatives]. It just takes time for the capital stock turnover to occur."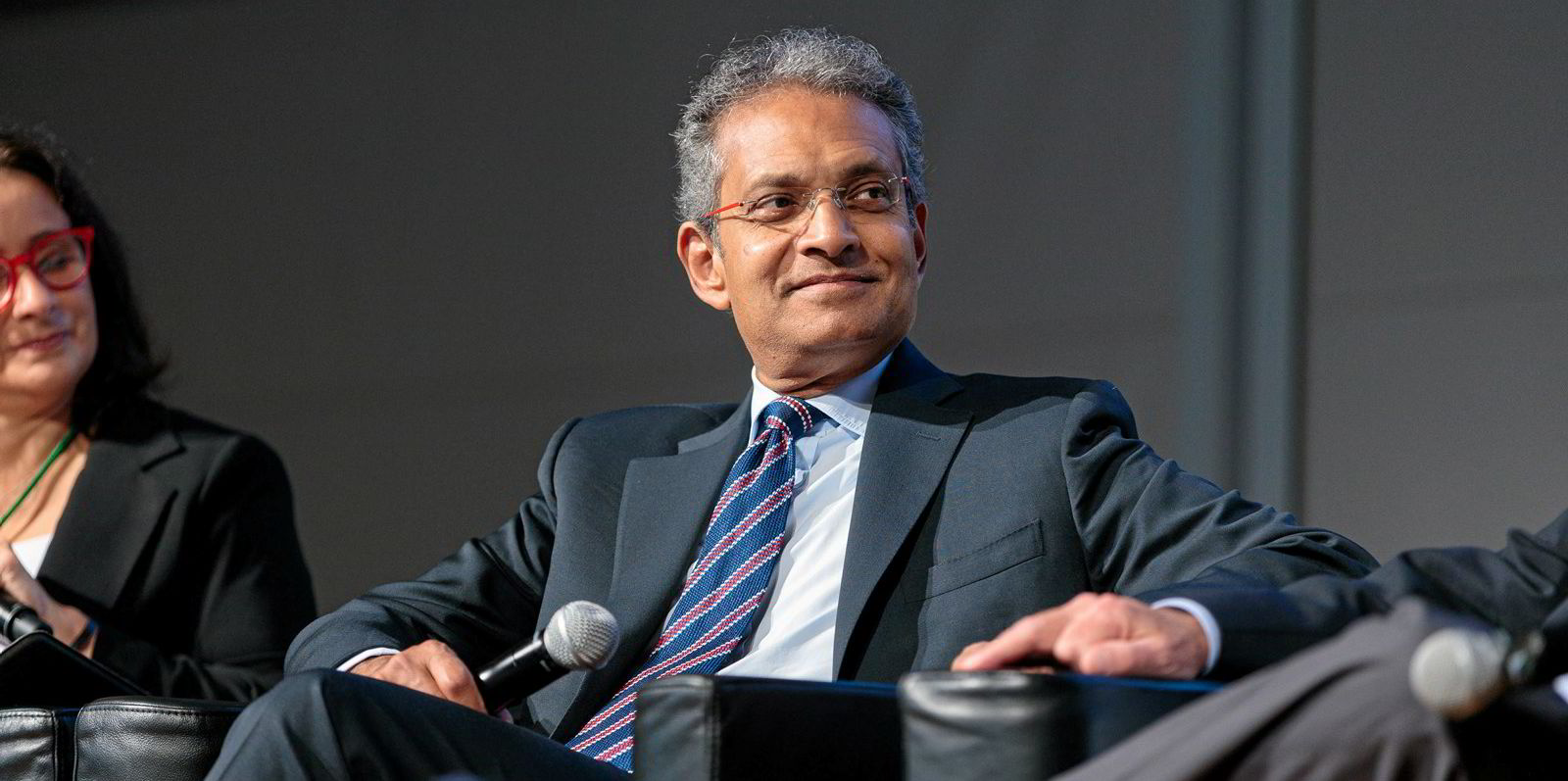 Alex Hewitt, CEO of CWP Global, a major renewables and green hydrogen developer, suggested that the biggest obstacle to reaching the 100mt target was the amount of wind and solar power that would be required.
"A hundred million tonnes of hydrogen is 1,400GW [of renewable energy]. So I don't know whether anyone can envision what 1,400GW is, but it's about 5,000TWh. So today what is being done in Europe, in fossil fuels in renewables, in nukes, is about 3,000TWh. So in order to make 100 million tonnes of [green] hydrogen, you have to build out an equivalent generation of one and a half times all of Europe. I don't mean to be negative, but it's a sobering number."
The global manufacturing capacity for wind turbines and solar panels in 2020 — the latest year for which such information is publicly available — was 120GW and 178GW respectively, and, of course, the world needs to also decarbonise its power supply as fast as possible. So where would all the equipment needed for 100 million tonnes of green hydrogen come from?
"If we are going to increase electricity production and with renewables by, say, five times, in order to meet the demands of decarbonisation, green, hydrogen, etc, we're going to need to be making solar panels, wind turbines, inverters, all of this, really competitively everywhere in the world," Turnbull told Recharge.
In a statement, GH2 explained: "Globally, we added 290GW of new renewable electricity in 2021. If this pace is maintained, we will have added close to 3,000GW by 2030. Most of that is needed for direct electrification. If we accelerate this trend, it will be possible to use 1,200GW to produce 100mt of green hydrogen."
Andy Marsh, CEO of US electrolyser maker Plug Power, wondered whether it would make more sense to send such volumes of green energy to the electricity system, rather than use it produce hydrogen.
"If you had those renewables, would you rather sell electricity or make hydrogen?" he asked the conference. "Making electricity, putting it on the grid today, might be a better short-term economic decision for a company. So I worry about that."
But Paddy Padmanathan, the CEO of Middle East-based renewables and water desalination company, ACWA Power, which is co-developing the under-construction 4.3GW Neom green hydrogen project in Saudi Arabia, said that the 100mt target was easily doable.
He pointed out that his company has already produced the world's lowest cost wind, photovoltaic and concentrating solar power in the world, and that, by adding batteries, such projects could generate very cheap electricity to power electrolysers around the clock, therefore producing very low-cost green hydrogen, he said.
"I don't know whether the chicken or the egg came first," he said, referring to the repeated references at the conference to green H2 producers waiting for demand to materialise, and end-users waiting for renewable hydrogen to be commercially available before making final investment decisions. "I have no idea and I don't need to know. This nonsense about sitting and waiting for the market… I'm sorry, the market is there. It's 100 million tonnes that's being used today — grey hydrogen. So why is it that we want to invent a new market? And there is a hell of a lot more to come.
"This is not the issue. The issue is there is no green hydrogen to replace that grey hydrogen today. Can anybody in this room really believe that if we are able to deliver a million tonnes of green hydrogen today at whatever price that somebody is not gonna buy it?
"I don't think so. We are utterly convinced. So I think here we have an opportunity because the world is completely aligned with us where you build it and they will come, but just make sure that you build it with real rigorous focus on cost so that you absolutely minimize that cost.
"[Reaching 100 million tonnes of green hydrogen] is not an issue, but it can be done only if we all just get on with doing it."
In Dispatches, Recharge journalists offer a personal insight into the issues shaping the energy transition around the world