Capital totalling as much as $173trn will have to be invested worldwide in renewable energy plant and infrastructure if international net zero targets are to be reached by 2050, necessitating a better than doubling of the current annual spend, according to new calculations from BloombergNEF.
The BNEF New Energy Outlook 2021 (NEO) computes investment is going to have to climb from $1.7trn a year today to $3.1-$5.8 trillion on average over the next three decades as the energy transition accelerates, noting that despite climate action pledges from major industrial nations including the US and China that the "route to [carbon neutrality] remains yet uncertain".
"There is no time to waste. If the world is to achieve or get close to meeting net zero by mid-century, then we need to accelerate deployment of the low-carbon solutions we have this decade – that means even more wind, solar, batteries, and electric vehicles, as well as heat pumps for buildings, recycling and greater electricity use in industry, and redirecting biofuels to shipping and aviation," said BNEF chief economist Seb Henbest.
BNEF CEO Jon Moore added: "The capital expenditures needed to achieve net zero will create enormous opportunities for investors, financial institutions and the private sector, while creating many new jobs in the green economy."
The NEO, which is structured around green, red and grey scenario "pathways", spotlighted that while renewable energy and electrification were "the backbone of the transition and must be accelerated immediately", hydrogen, carbon capture and storage and new modular nuclear plants should be seen as "emerging tools that should be developed and deployed as soon as possible".
With 83% of the world's primary energy currently generated from fossil fuels, with wind and PV accounting for just 1.3%, the report stressed "the next nine years will be crucial to getting on track to limit rising temperatures in line with the Paris Climate agreement [to keep global temperatures to within 1.5°C of pre-industrial levels]".
BNEF's green scenario is built around clean electricity generation and green hydrogen, with wind and solar growing to 15% of primary energy in 2030, and 70% in 2050, at the same time as fossil fuels drop some 7% a year and make up only just 10% of supply by 2050.
In the red scenario, nuclear is prioritised for hydrogen production, with 66% of primary energy in 2050, compared with 5% today.
And in the grey scenario, in which CCS sees "widespread" deployment, coal and gas continue to be used, and fossil fuels decline only 2% a year, to 52% of primary energy supply by mid-century, with wind and PV expanding to 26%.
"The energy transition is inherently uncertain," said Matthias Kimmel, BNEF's head of energy economics. "This is why we have modelled three distinct pathways to net zero this year. Hydrogen, nuclear and carbon capture could all play an important role in helping the world reach net zero, and each of these technologies must be further developed and brought to market in the coming decade, if they are to realize their potential."
Factoring in sector-by-sector emissions budget estimates to achieve net-zero in 2050 "with an orderly transition", BNEF's calculus shows global energy-related emissions need to drop 30% below 2019 levels by the end of the decade, and 75% by 2040, to reach net-zero in by mid-century.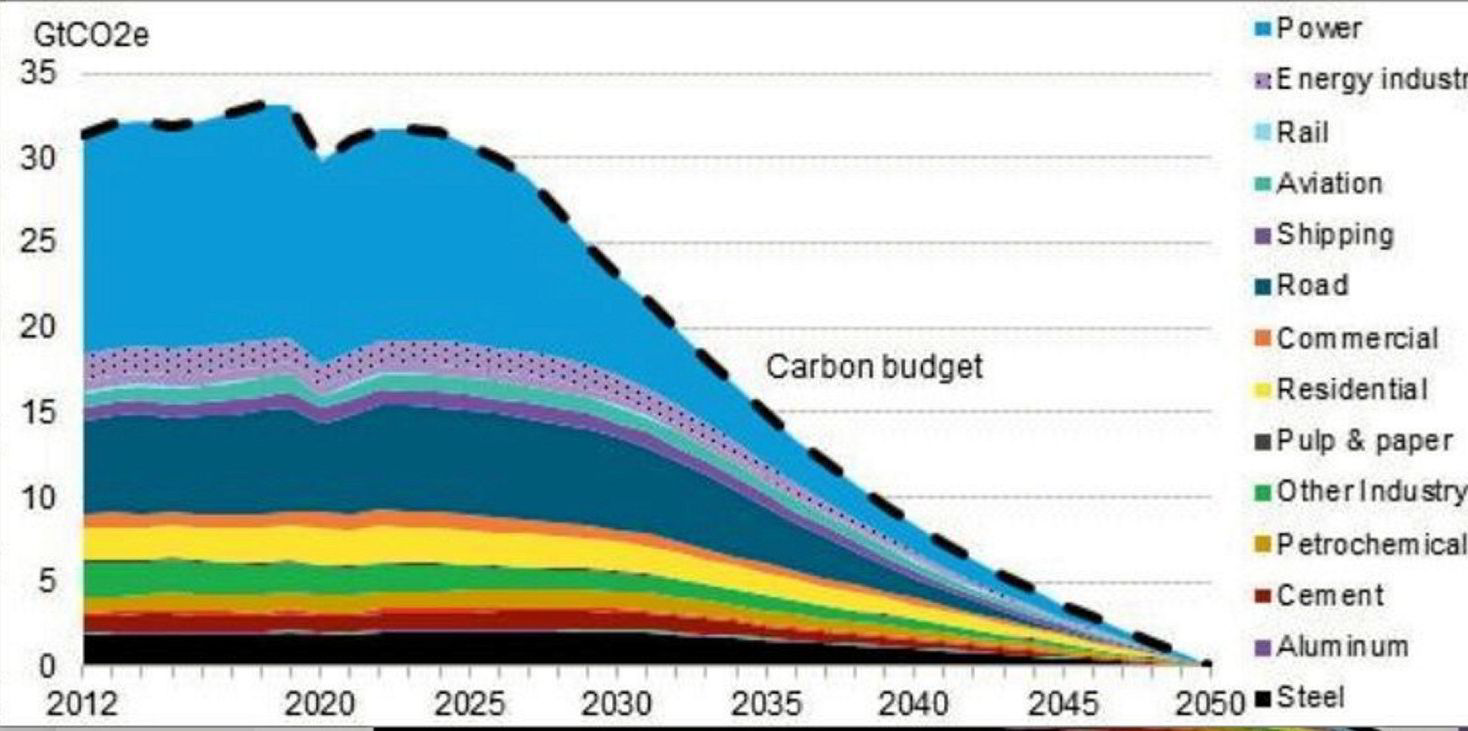 Though BNEF singles out the power sector as having to "make the greatest progress over the next decade" – slashing emissions by 57% from 2019 levels by 2030, and then 89% by 2040, the report authors stated that "every sector of the energy economy needs to cut emissions steeply to achieve net-zero", with road transport emissions 11% lower by 2030, then 80% below 2019 levels in 2040.
Wind and solar power are foreseen spearheading emissions reductions in the power sector, providing between 59% and 65% of the cuts in BNEF's scenarios, with the former technology reaching 25TW of plant in 2050 and the latter 20TW, while batteries would represent 7.7TWh of energy storage by this year
"This requires a big step up. While the first 1,000GW of wind and PV took twenty years to deploy, getting to zero emissions in the green scenario requires around 1,400GW of renewables to be deployed every year, on average, for the next three decades," said the NEO authors.
The NEO sets out a range of 2030 "milestones" for the world to be on-track to net-zero by mid-century, including adding 505GW of new wind power each year to 2030 – over five times the 2020 total; 455GW of PV – more than three times that in 2020; and 245GWh of batteries – 26 times the 2020 total.
Demand for fossil fuels sees a "significant decline" over the next 30 years in all three BNEF pathways, with green and red scenarios showing coal, oil and gas for combustion drop to zero by 2050, replaced by renewables, electricity and hydrogen.