A concept aircraft that can fly almost 10,000km on a single tank of liquid hydrogen has been unveiled as part of a £15m ($19.9m) UK government-funded project.
Hydrogen: hype, hope and the hard truths around its role in the energy transition
Will hydrogen be the skeleton key to unlock a carbon-neutral world? Subscribe to Accelerate Hydrogen, powered by Recharge and Upstream, and get the market insight you need for this rapidly evolving global market.
"Up to 279 passengers could fly between London and San Francisco direct or Auckland, New Zealand, with just one [refuelling] stop with the same speed and comfort as today's aircraft, revolutionising the future of air travel," said the UK's Aerospace Technology Institute (ATI), which led the project.
The concept was developed by aerospace and aviation experts from across the country as part of the government-financed FlyZero project.
"Big technological challenges exist to realise green liquid hydrogen-powered flight but there is a growing incentive and reward involved in resolving these," said the ATI.
"A new generation of highly efficient hydrogen-powered aircraft with low fuel costs is forecast to have superior operating economics than conventional aircraft from the mid-2030s onwards."
Because liquid hydrogen contains far less energy than fossil-based jet fuel by volume — and needs to be stored at about minus 250°C — new aircraft designs with larger, cryogenic fuel tanks will be needed.
The new midsize FlyZero concept has cryogenic fuel tanks in its fuselage and in two bulging "cheek" tanks underneath the front of the aircraft. It would be propelled by two turbofan hydrogen-burning engines on its wings, which span 54 metres.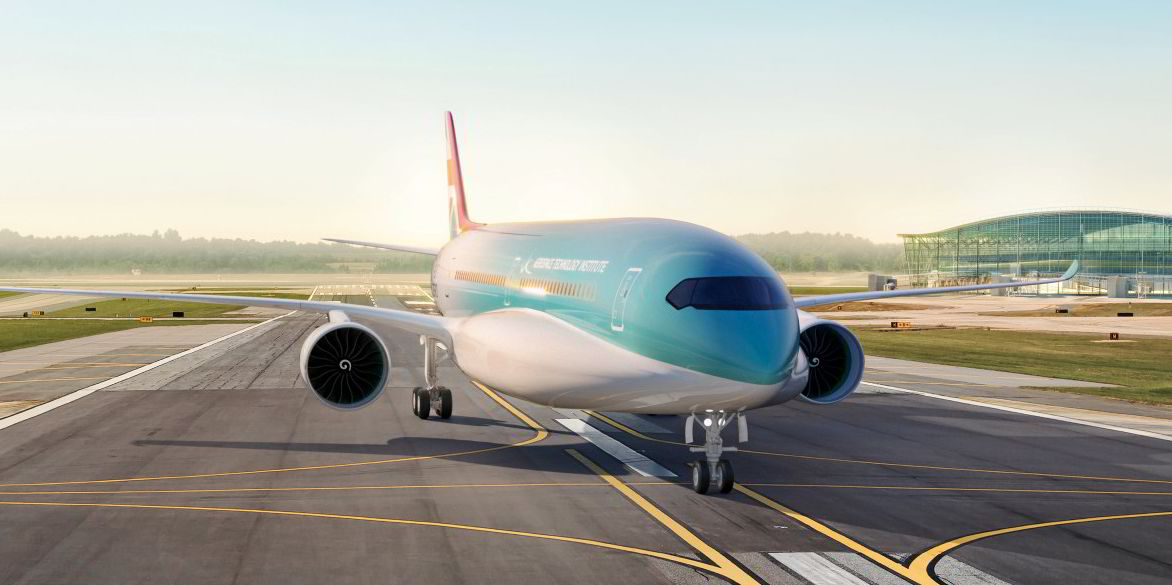 ATI claims that the plane would be able to replace flights that today account for 93% of the aviation industry's carbon emissions.
"These designs could define the future of aerospace and aviation," said UK business and energy secretary Kwasi Kwarteng. "By working with industry, we are showing that truly carbon free flight could be possible, with hydrogen a front runner to replace conventional fossil fuels."
Despite the bold statements, the concept plane might well still result in greenhouse gas emissions. Burning hydrogen in air releases nitrous oxides (NOx), which form when nitrogen and oxygen in the air combine at high temperatures, as well as water vapour — both of which are greenhouse gases, although the latter is short-lived.
Detailed findings from the project, including on three final aircraft concepts (the above midsize, as well as a regional and "narrowbody" plane) will be published early next year, along with technology roadmaps, market and economic reports and a sustainability assessment.
The European aircraft manufacturer Airbus is also working on its own hydrogen-fuelled planes and last year similarly unveiled three new designs for different uses, the most revolutionary of which was a "blended-wing body" design for up to 200 passengers.
Due to the greater energy density by volume of existing jet fuel, many in the aviation sector believe that so-called green "drop-in fuels" that are chemically identical to kerosene represent the clean future of aviation and can thus be used by existing aircraft. These can either be biofuel, also known as sustainable aviation fuel (SAF), or synthetic "e-fuel" produced by combining green hydrogen with captured CO2 in refineries.