Developer Svevind Energy has brought its vision to build one of the world's largest green hydrogen projects in Kazakhstan closer to reality by signing a roadmap for the gigantic plan with a high-ranking delegation of the central Asian country's government.
The signing of the roadmap took place during a visit by a delegation led by Kazakhstan's deputy minister for foreign affairs, Almas Aidarov, to northern Sweden to visit Europe's biggest onshore wind project Markbygden 1101, which earlier this year passed 1GW of turbines in operation while a further 1.5GW are under construction.
Svevind has developed Markbygden, showing the Kazakh government delegation that the German company can pull off gigascale renewable energy projects.
"Like the rest of the world, we are entering the green hydrogen race. We believe in the prospects of the extra large scale of the 30GW electrolysis projects in our endless steppes," Aidarov said.
"Currently, we have the understanding and the availability of all the needed resources such as wind, solar, water, land and the know-how from Svevind. Ahead await interesting, large-scale and challenging projects."
As part of the roadmap in Kazakhstan, the developer between 2022 and the first half of 2024 wants to carry out on-site surveys and nature investigations for an environmental impact assessment in the western Kazakh region of Mangystau that is bordering the Caspian Sea.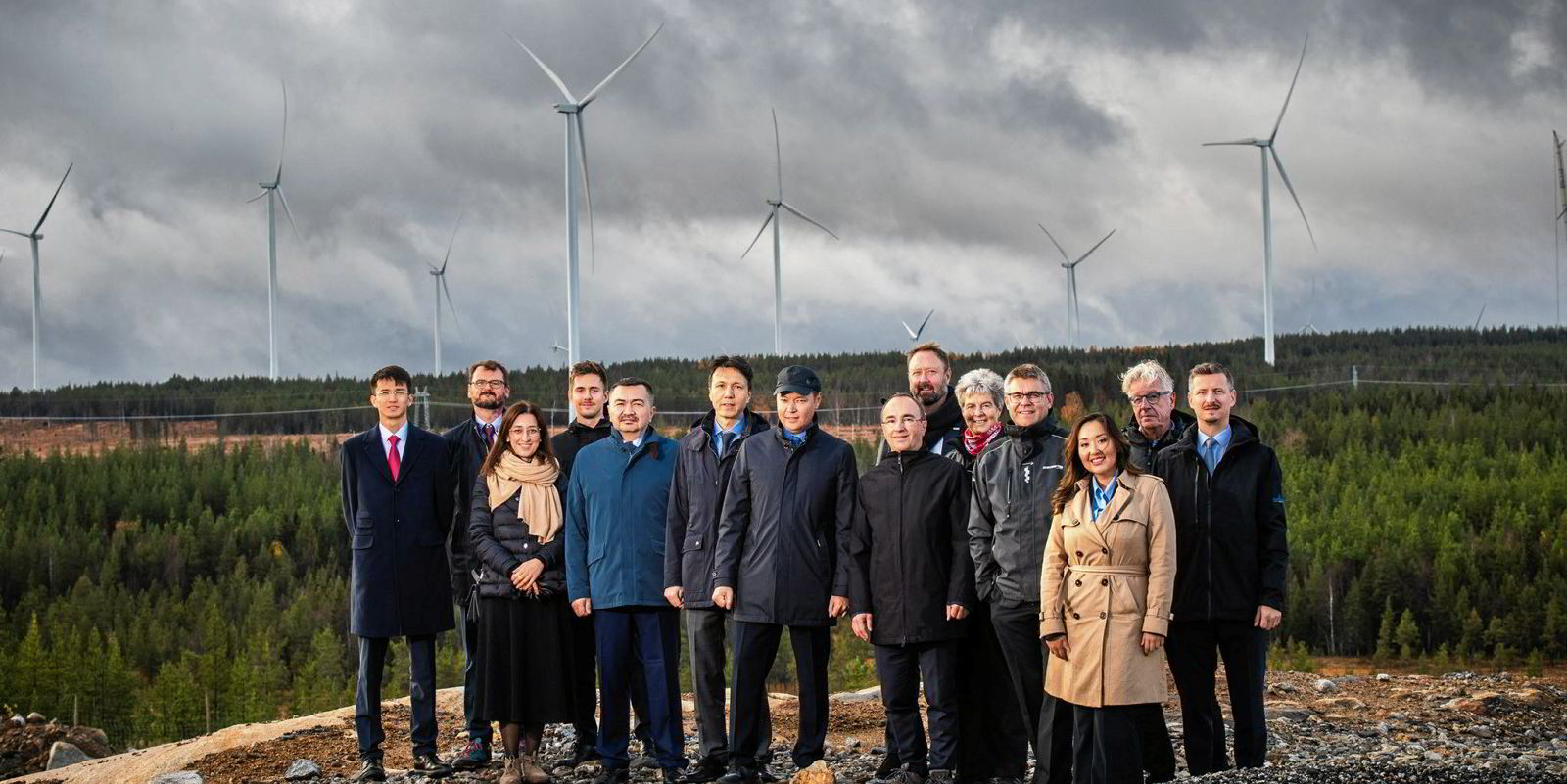 All permit applications and licenses are expected to be handled and granted by authorities directly after that, while Svevind will use the time up to 2024 for the concept design and to work out details of the engineering phase. Project financing is slated to be found in 2024-26, with a financial investment decision foreseen in 2026.
Svevind forsees five years of construction from 2026 to 2030 for a first 30GW of wind and solar PV, desalination, and 20GW of electrolyser capacity, as well as an ammonia plant in order to produce 2m tons of green hydrogen or up to 11m tons of green ammonia per year from 2031 on.
A further 15GW in renewable energy installations is planned to be added in a later phase in Kazakhstan, - but not necessarily also in the Mangystau region – when another 10GW of electrolysers are also slated to be built.
The exact mixture of green hydrogen or ammonia production is planned to be adjusted based on offtake structures.
New silk-H2 road
Next to the Kazakh domestic market, the giga-project targets both Europe and China as potential buyers of massive amounts of green H2 and green ammonia.
"Svevind aims to combine the outstanding natural resources in Kazakhstan with Svevind's long-time experience and passion in project development to supply Kazakhstan and Eurasia with green, sustainable energy and products, 'powered by nature'," Svevind chief executive Wolfgang Kropp said.
"The green hydrogen facilities will lift Kazakhstan among the global leaders of renewable energy and green hydrogen."
The EU (and UK) already have green hydrogen strategies in place and China is working on a national H2 strategy, meaning Kazakhstan is well placed in between the two major markets with substantial infrastructure already in place, such as gas pipelines (that potentially could be upgraded to transport H2), shipping, and railroads.
Also, China's 'new silk road' vision connects China and Europe crossing Kazakhstan.
Svevind CEO Kropp before the roadmap signing in September had already met Kazakh president Kassym-Jomart Tokayev to inform him about the planned implementation of the ambitious green hydrogen plan, and also met Kazakh prime minister Askar Mamin.