Italian electrolyser maker Enapter will be able to reduce the cost of its anion-exchange membrane (AEM) machines by 83.5% over the next three years due to economies of scale and automation at its new factory in Germany, the company tells Recharge.
Hydrogen: hype, hope and the hard truths around its role in the energy transition
Will hydrogen be the skeleton key to unlock a carbon-neutral world? Subscribe to Accelerate Hydrogen, powered by Recharge and Upstream, and get the market insight you need for this rapidly evolving global market.
Currently, Enapter is only producing its highly modular electrolysers in small quantities — 20-30MW per year at a facility in Pisa, Italy. But its new campus, currently under construction in Saerbeck, western Germany, will have an annual production capacity of at least 300MW.
"Right now, we're not producing our stacks in an automated fashion," chief strategy officer Thomas Chrometzka tells Recharge. "At the Enapter campus, in the first step, we will probably not go into full automation, but soon, the goal is for the electrolyser stacks to be fully automated in their production. It'll be key for us to reduce the stack costs. And ultimately that's obviously a huge lever [for cost reduction]."
Enapter explains that the price of its electrolysers will fall from the current €3,333/kW to €550/kW in 2025.
"We're confident that we can reach those numbers by reaching a production capacity of 300MW a year, maybe a bit more. We don't have to go to 5GW to get there," he said, referencing the factory sizes that some manufacturers are planning.
Enapter has long said that its unique AEM technology will be able to produce cheaper green hydrogen than the alkaline and PEM electrolysers that currently dominate the market, due to its relative efficiency and lower-cost materials.
The Enapter electrolysers can produce one kilo of hydrogen from 53.4kWh — and is therefore more energy efficient than average alkaline or PEM electrolysers (see below) — while the technology is also able to quickly respond to the ups and downs of variable renewable generation in a similar way to the more expensive PEM machines.
This means that by 2025, a 1MW AEM Multicore unit could produce green hydrogen at $2.26 per kilogram, using renewable electricity at an average price of €30 ($30) per MWh, with a load factor of 98%. That figure rises to €3.33/kg with a mean power price of €50/MWh.
"If your electricity cost is in that range, then the bottom line is that competitiveness is around the corner or even already there compared to pre-gas-crisis grey-hydrogen prices.
"For our modular units [the 2.4kW EL 4.0], we're not necessarily competing with large industrial production of hydrogen. If you can put an electrolyser next to a refuelling station, you're competing with hydrogen that is being sold at the pump for €10-12/kg."
He continues: "Many are saying how we need to get funding for all these green hydrogen projects, that we need governments to approve the budgets. But we're saying we don't have to wait two or three years. Green hydrogen can already be competitive — we have customers around the world that are using our devices today. They're being used at refuelling stations today. And we're bringing prices down rapidly. So let's get going, there's no need to wait.
"The bottom line is that in 2025, we plan to reach many of these cost projections in industry reports for 2030."
Enapter has long stated that it believes its AEM technology and highly modular approach — all its units are built from standardised 2.4kW stacks — will produce green hydrogen at a lower levelised cost than the alkaline and PEM electrolysers that currently dominate the market.
"The materials we use in an AEM electrolyser are not much different from an alkaline electrolyser. But it has all the capacities of a PEM electrolyser — it runs much better with renewable energy; ramping up and ramping down is not something that large-scale lowest-cost alkaline electrolysers are very good at," says Chrometzka.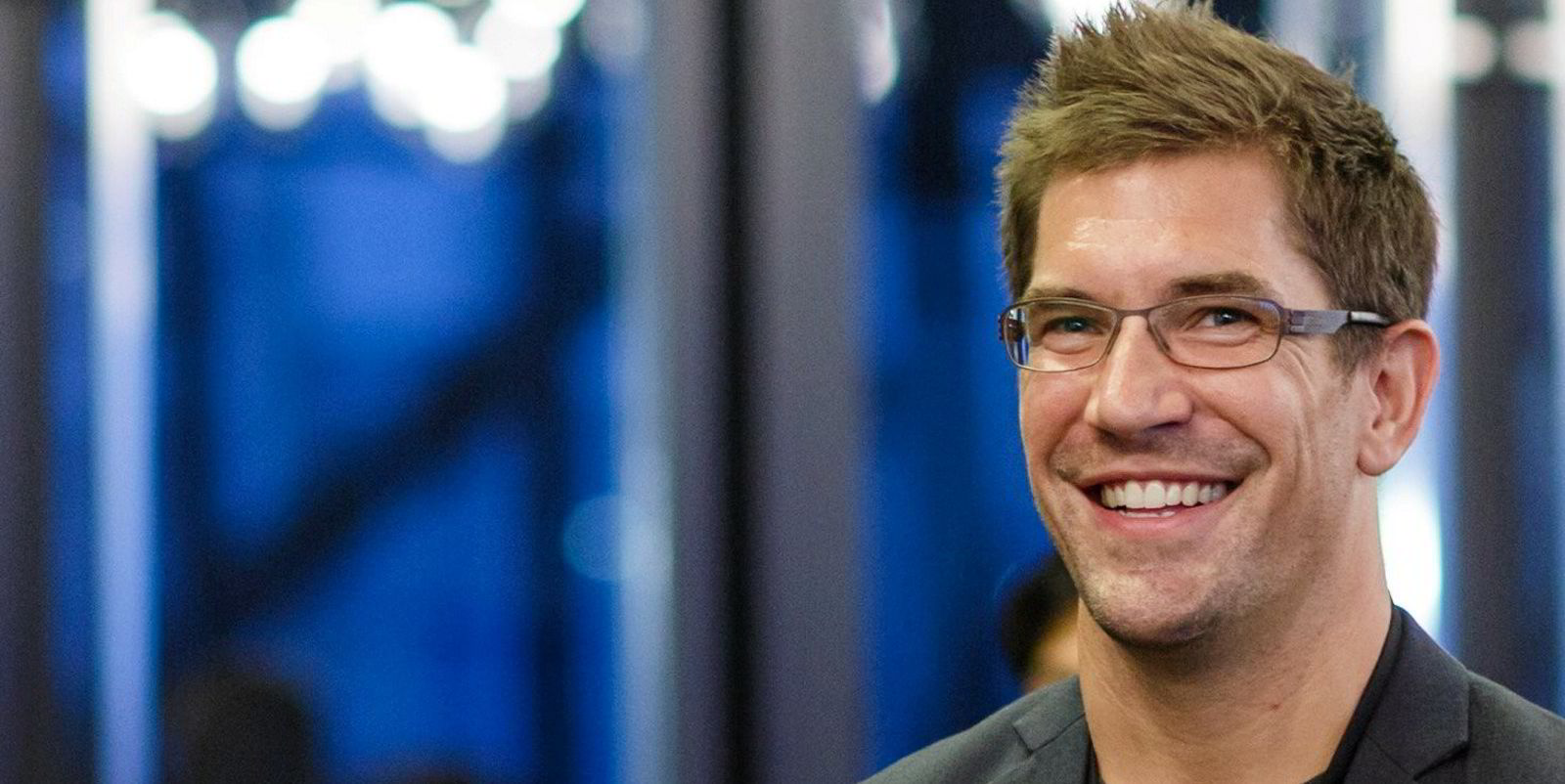 "We think that long term, when we're going into very high volume numbers, we might be able to compete with alkaline. This is because we're building machines that are more compact and less complex. We're producing hydrogen with a dry cathode unlike alkaline electrolysers, so our hydrogen doesn't require any cleaning, KOH [ie. electrolyte] scrubbing, purification, drying to the extent that an alkaline electrolyser needs."
He explains that electrolyser production will begin at its Enapter campus next year, with the first 1MW Multicore units due to start shipping in the second half of 2023.
The German factory was designed to produce 10,000 stacks a year, with an annual capacity of about 300MW.
"But we think that with a few more tweaks — and we have ample room available — the factory is probably already capable to output about 1GW a year," Chrometzka says.
He explains that this is because the company has not yet decided if it will assemble its 1MW Multicore units on site.
"We're making everything ourselves, we make our own electrodes, we build cells and the stacks, we will definitely produce our own EL 4.0 single-core electrolysers. We're not planning to outsource any of that. But when it comes to building megawatt units, it is unclear if we would equip all these containers ourselves, or of we maybe outsource that to a build partner.
"And that would obviously have significant implications. If we use the floor space at the factory purely for stack production and the single-cores, then we would have a much higher capacity compared to if we were equipping 40ft containers for our Multicore units in there."
What is AEM and how is Enapter different from other electrolyser makers?
"We're basically taking the efficient cell set-up of a PEM to produce hydrogen in a compressed yet highly pure manner, but we can do it with very cheap material costs, which we usually only know from alkaline technology. So it's bit of a blend," Chrometzka told Recharge in July last year.
"In our case, our membrane is conducting anions [ie, negatively charged ions] and the PEM would conduct protons [ie, positively charged ions]."
As PEM electrolysers use a highly acidic electrolyte, the bipolar plates that house the electrolyte and separate the cells in a stack require expensive titanium to protect the stack and avoid corrosion. Enapter's AEM machine, however, uses a 1% alkaline solution of potassium hydroxide (ie, 99% water), so much cheaper steel can be used.
Enapter said last year that its bipolar plates would cost $20/kW in a 1MW electrolyser in 2025, compared to $190/kW for a PEM machine.
Cost savings are also due to Enapter's novel, modular approach to electrolyser production.
Rather than producing a 1MW or 5MW electrolysis unit, as most manufacturers are doing, the Italian company will mass-produce small 2.4kW electrolyser. So each 1MW "Multicore" electrolyser would require 420 stacks.
"We looked into economic history and asked, 'what has yielded the fastest results on cost reductions?' We saw that this was mass-producible standardised commodities," said Chrometzka last year, pointing to the example of data centres using hundreds or thousands of computer hard drives, and solar farms made up of thousands of polysilicon panels.
"So our approach is to go in with a standardised product and then stack it up very cleverly, instead of building always-larger electrolyser units. Through this approach, we think the economies of scale are higher."
He explained that by using multiple small stacks, Enapter can "borrow" power equipment already used in the PV and battery sectors.
"This is inherently cheaper than developing custom MW-scale power units, as is often the case with larger PEM stacks," said Chrometzka. "In addition to this, we also use many more of such standardised units, and prices scale significantly with unit numbers. Where our competitors might be sourcing hundreds or thousands [of power-supply units], we are looking at hundreds of thousands and millions."
He also points out that AEM technology does not require the highly expensive iridium or platinum used as a catalyst in alkaline and PEM electrolysers, although he concedes that the amounts used in those are so small that this is only a minor advantage compared to the cost savings from the power supply units and removing titanium.
"We cannot see how a PEM electrolyser can ever be cheaper than an AEM electrolyser," he told Recharge last July.
Chrometzka added that while AEM and alkaline electrolysers are both built using similar low-cost materials, AEM is a simpler system that requires less material, and it does not require post-production purification of the hydrogen.
Enapter's technology also has an advantage in terms of energy efficiency, the company says, claiming that it requires 53.4kWh of electricity to produce 1kg of hydrogen, compared to an average of 56.7kWh for PEM and 55.3kWh for alkaline electrolysers.