Scotland's 50-year North Sea petro-adventure is entering a new chapter. What comes next in a saga that has seen the former fishing port of Aberdeen grow into a global oil & gas industry hub, a technology-pioneering international sector supply chain spawned over the decades at sea, and many billions of barrels of crude pumped into Britain's pipelines and beyond, will, as ever, be a voyage of discovery.
But what is increasingly certain is the transformative role that floating wind will have in the emerging North Sea 2.0 narrative, and globally as the world looks to the technology as a key new weapon in its decarbonisation arsenal in the years following COP26.
Home now to two world-title-holding floating arrays – the 30MW Hywind Scotland, the first-ever multi-turbine industrial development when it came online in 2017, and the 50MW Kincardine, just commissioned after lengthy delays and the biggest operating sector project on the planet – Scotland stands on the cusp of awarding vast swaths of acreage in its 11GW ScotWind round, 75% of which is in waters too deep for bottom-fixed foundations.
The immediate win for Scotland lies in this lead-off auction, as it presents the first opportunity for developers – an offshore wind who's-who have put their names in to the tam o' shanter with bids as large as 7GW – to roll out floating units in utility-scale project numbers. The huge volumes of clean power that will soon be flowing from far-offshore straight into the mainland grid – at ever-lower levellised cost of energy as the technology is streamlined and the onshore network digitised – is seen as central to achieving Holyrood's ambition of reaching net-zero by 2045.
Industrial rebirth on horizon
But with this will come the likely bigger prize: a new life for Scotland's coastal industrial manufacturing base that has fallen into disuse as the North Sea morphed from a hydrocarbons exploration and production campaign into an oil & gas operations complex, as smaller pockets were drilled out and 'enhanced recovery' schemes squeezed the billion barrel fields through their 'managed decline'.
A recent government-backed report into the economics of investment in Scotland's port infrastructure that was tailored to support the offshore wind sector, concluded tens of billions of pounds would be generated for the national economy in the coming decades. By its calculus, construction of 22 hectares of new port capacity suitable to fabrication of floating wind platforms would immediately stimulate some £1.5bn ($2bn) in investment in the country and lead to offshore developments by 2027 that would generate a total spend of almost £19bn – as well as creating 1,900 jobs a year during construction and some 30,000 over these projects' operational lives.
In recent months early-mover deals have begun to be announced, among them: BW Ideol with the Scottish port of Ardersier for serial production of its 'damping pool' foundations; Kishorn dry-dock, the marine fabrication site used during the building of the Skye Bridge 25 years ago, cleared for a capital injection to extend the site for use in concrete floater platform fabrication; and Simply Blue and Subsea 7 signing up to build 200MW of floating units at Global Energy Group's Nigg yard – a former offshore oil construction facility.
The wider economic development percolation is beginning to bubble
The wider economic development percolation is beginning to bubble too, as exemplified by floating wind convert Orsted, which recently sweetened its bid for a package of projects that are more floating than fixed with a pledge to invest up to £12bn directly with Scottish companies in developing 8.5GW of offshore capacity.
And again, reflecting the deeper financial benefits that will doubtless trickle down with the growth of the floating wind sector, as industrial supply networks developed to service North Sea oil production diversify, and then ripple out into the cities and communities supplying workers and support staff, the Danish developer is also exploring community-ownership as part of its bids to build large-scale offshore capacity off Scotland's coast.
Allies in oil and hydrogen
This is all just the start. Floating wind is about to slip its perennial industrial Catch-22 – too expensive to build at a project-size that would move the sector into commercial serial production, so as, in turn, to lower the cost via economies of scale to the point where conventional offshore wind already is – sub-€50/MWh – by undertaking a diversification of its own.
With the prospect of these tens of gigawatts of floating now in the pipeline, the technology is finding it is capturing the attention of two key allies, one old and one new. The old is the ageing oil & gas production complex on the UK continental shelf that needs to slash emissions to meet government 2030 and 2050 climate targets – and would add another 4GW to floating's burgeoning market through platform electrification. Scotland is getting into gear quickly, lately bolting on a leasing round to ScotWind specifically for sub-100MW floating wind-powered offshore oil & gas pilots.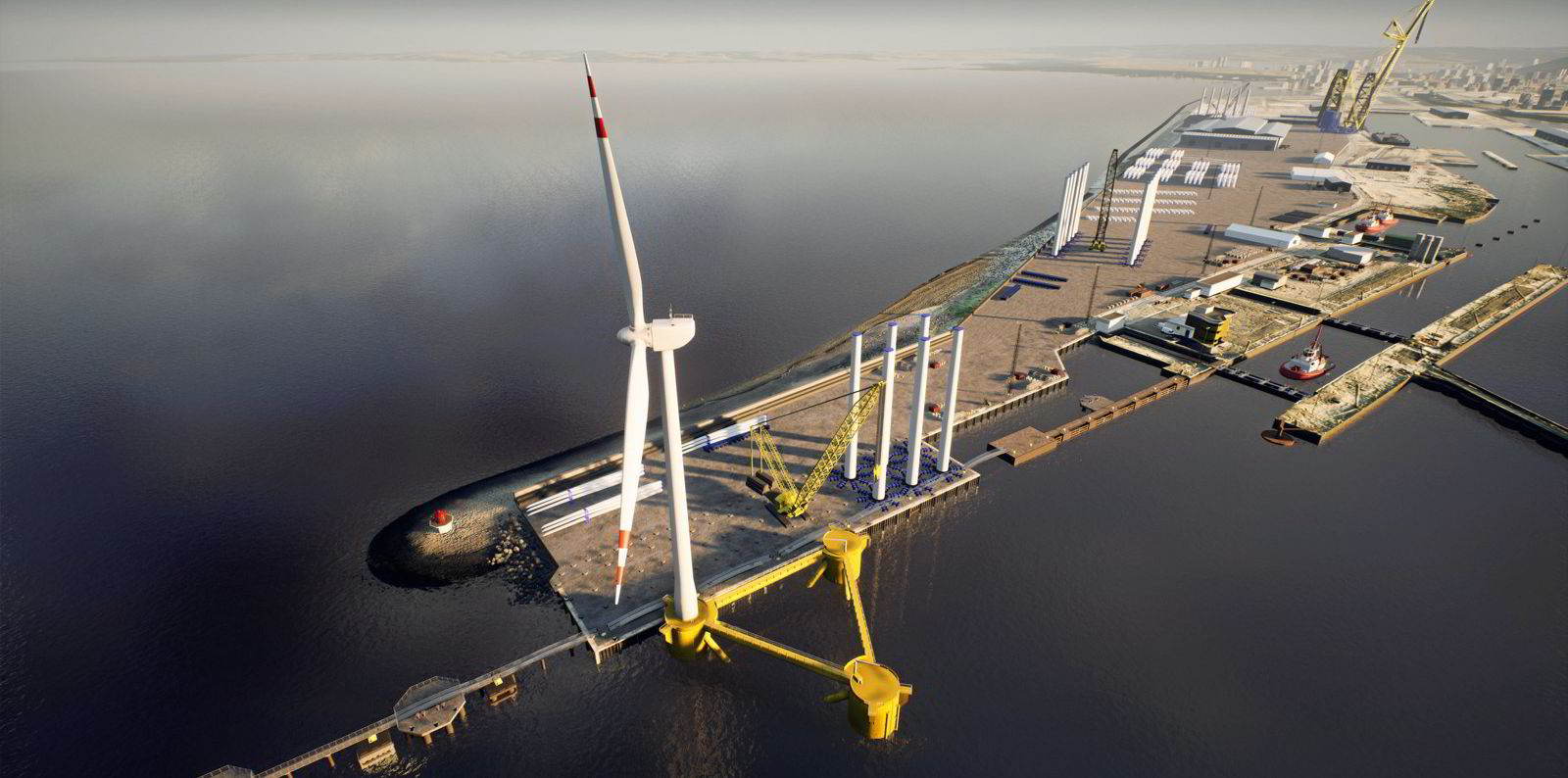 Norway's flagship Hywind Tampen project, which will cut CO2 by a third at the Snorre-Gullfaks oil & gas complex with 88MW floating wind array, is the breakout, but it will swiftly be followed by several much larger developments, including – though the project has yet to reach FID – Cerulean Winds' 3GW plant, calculated capable of decarbonising the oil & gas production infrastructure in the UK central and northern North Sea by half – and channelling surplus electricity to shore to power a hydrogen plant.
Hydrogen is the new. It may seem counterintuitive, but floating wind, currently the most expensive form of wind power, may one day soon win out as the most economic way to produce the green gas, now seen as the Swiss Army knife of the energy transition – producible cleanly, storeable, transportable, commoditisable.
Though currently much pricier that bottom-fixed offshore — or, of course, onshore wind — floating wind-powered hydrogen plants in the world's deepwater regions could be an industrial reality sooner than many – as with the hydrogen sector more widely – thought, with first demonstrators heading for the water this year to explore floating wind as an off-grid power source.
Free from electrical connection to onshore transmission infrastructure, floating wind farms could be constructed far and wide in Scottish waters, producing tanker cargoes of clean hydrogen with the capital advantage of not needing high-price, long-distance underwater export lines to transport power to shore – while also avoiding costly marine spatial planning complexities of building closer to land. By DNV's calculus, any 2GW-plus floating wind project more than 200km from shore would be able to "export molecules more cheaply than electrons".
Focus your mind: get the insight you need with the Recharge Agenda
The global energy transition is gathering momentum – and the accompanying news-stream becoming an information deluge. Separate the green giants from the greenwash and the hard facts from the click-bait headlines with Recharge Agenda, our curation of the market-making events of the week, distilled down into one quick-read newsletter. Sign up here for free
Scotland again is staking its claim here in the clearest exploration and production spirit with pioneering projects such as Dolphyn – being built by Engie-owned Tractebel to turn 2MW of output from the Kincardine array off Scotland into hydrogen and pump it on to Aberdeen starting in 2024, with plans for gigawatt-scale deployment in the early-2030s – and the DeepWind Orion project off the Shetlands, a far-offshore 2GW play on offer as part of ScotWind.
Fair winds but not all plain sailing
The winds carrying floating out to sea off Scotland may be fair but finding a place in this veteran global oil & gas basin will not be all plain sailing. Though low-impact in environmental terms compared to piled-in jackets and monopiles, floating wind will nonetheless face a number of future friction-points during the construction of the coming gigawatts due to the simultaneous construction of a large number of carbon capture projects, which new government scoping work has shown will be key to the North Sea energy transition.
Still, hydrogen might ride to the rescue here. Oil & gas infrastructure linked to Shell's decommissioned giant Brent field has already been spotlighted as an "ideal site" in a recent Scottish Offshore Wind Energy Council scoping report, for possible conversion for offshore wind-powered hydrogen production, with existing pipelines and platforms repurposed for the next chapter of energy production on the UK continental shelf.
Scotland is looking to build on its lead in floating wind. Early in October, Highland Wind – a consortium led by Danish investment fund Copenhagen Infrastructure Partners – formally launched a floating project that would depose Kincardine, the 100MW Pentland, which would be in construction by 2025 and supplying 65% of the power demand in the Highlands a few years later.
This Scottish project could be particularly key as the industry raises the temperature on the UK government to jack-up its current 1GW 2030 floating wind goal to 20GW by 2040 to keep its place in the vanguard of the sector while unlocking a £45bn market opportunity, as industry leaders recently highlighted at a conference in the Granite City.
The future for floating wind is on a fast-approaching horizon, with 260GW forecast to be turning worldwide by mid-century. Scotland, one senses, is starting to lean out, the Saltire ruffling, facing familiar North Sea winds and waves.