As individual nations line up to make pledges to the COP26 summit, the EU will come to Glasgow with a unique ambition to create the first climate-neutral continent by 2050.
That will require huge amounts of offshore renewable energy, with Brussels targeting 60GW of wind in the seas off its member states by 2030 and 300GW by 2050. Outside the bloc, industry group WindEurope estimates the UK will contribute another 80GW and Norway 30GW.
Faced with such vast expansion – only 26GW was in place off the EU and UK midway through 2021 – plans for artificial energy islands off Europe have over the last few years emerged as some of the most ambitious in the global energy transition.
So far, most offshore wind arrays have been connected to the onshore power grid individually, or to an offshore converter station that bundles the power of three or four wind farms together via a high-voltage direct current (HVDC) link to shore.
But the next decades will require a rethink of how grid connection is organised, how quickly new capacity can be added, how to do that most economically, and how to do so without using up too much sea space.
To grid connect more offshore wind at a lower cost, and potentially to more than one country at a time, several North Sea nations are now looking at energy islands as a serious option. Two of them – Denmark and Belgium – are in a race to build the first, with leading industry players such as Orsted and Jan de Nul ready to join the push.
Despite complex engineering challenges and massive volumes of sand, rocks and concrete needed to build them, some commentators believe artificial energy islands may offer a cheaper alternative for grid connections than multiple conventional offshore wind substations and converter stations.
The energy islands are also being suggested as potential hosts for offshore wind-powered green hydrogen production and repositories of battery storage.
Frontrunner Denmark
Denmark, which pioneered the world's first offshore wind farm 30 years ago, is now on pole position to build the the first artificial energy island globally.
The Danish Energy Agency (DEA) has said that it plans to start the tendering process for an island some 80km off Denmark's Jutland peninsula next year, and will likely announce the winning bid in early 2023.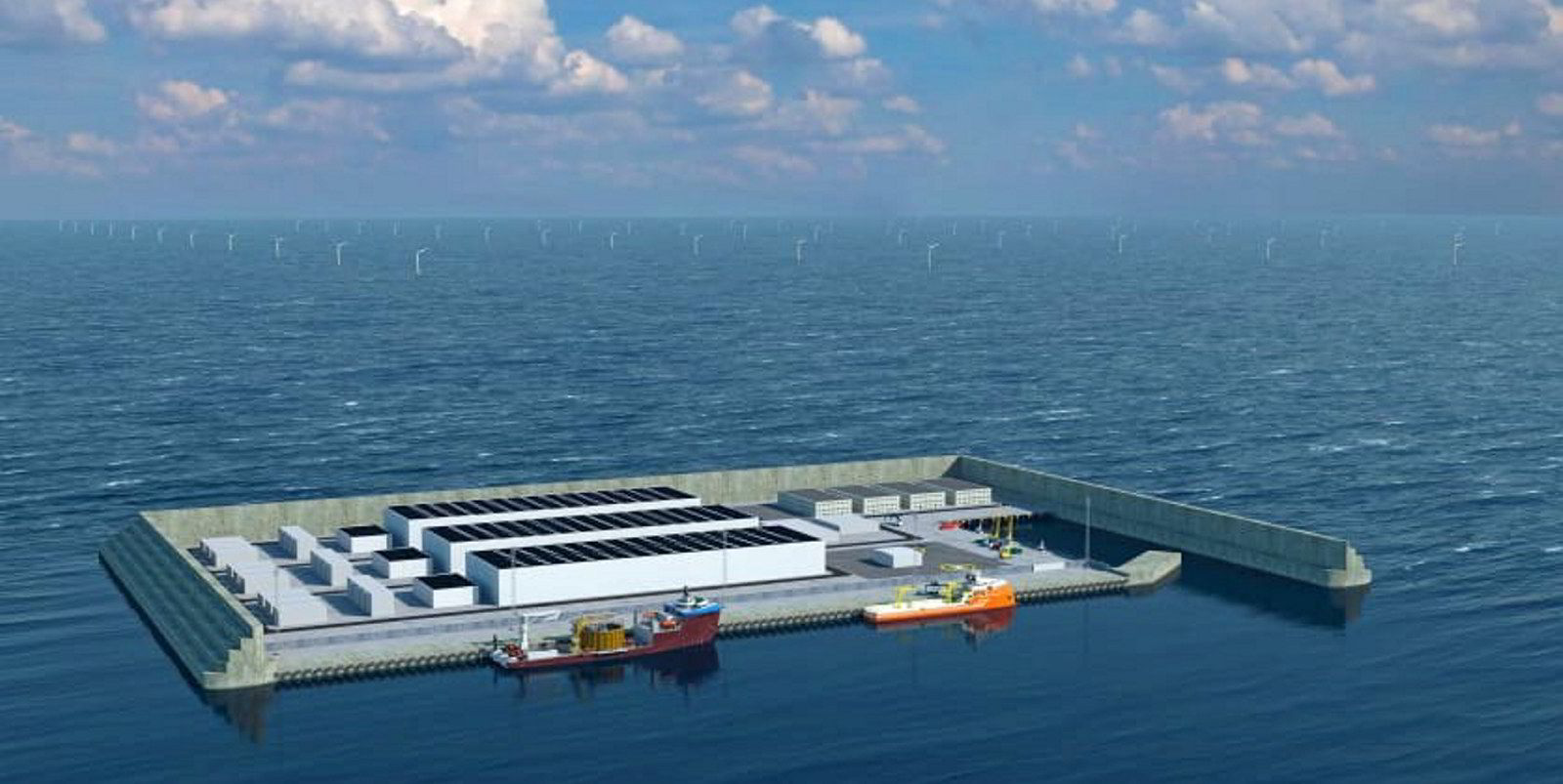 The island is planned to initially be linked to 3GW of offshore wind capacity, later slated to be boosted to 10GW with interconnections to multiple European countries.
Danish grid operator Energinet in August awarded the assignment of conducting environmental studies for its energy islands (the country also plans one in the Baltic Sea) to consultancy Niras and engineering consultancy Ramboll.
"Renewable energy from wind turbines in the North Sea and the Baltic Sea is to help Danes and Europeans use energy without damaging the climate in the long term. But it's vital that the green transition goes hand in hand with protection of nature and wildlife," said Hanne Strom Edlefsen, vice president for energy islands at Energinet.
Meanwhile, Danish offshore wind champion Orsted has teamed up with Danish pension fund ATP for a joint bid to build the North Sea energy island. The consortium is bringing in three world-leading industrial construction experts for its construction – Aarsleff, Bouygues and marine contractor Van Oord, which took part in building the Palm Jumeirah luxury tourism island off Dubai.
Van Oord rival Jan de Nul subsequently told Recharge it is considering rivalling the high-profile bid led by Orsted.
"The Danish island has been on our radar for some time. We have contacts with different consortium partners," Jan Fordeyn, Jan de Nul's director, project development & conceptual design, revealed in an interview.
Like Van Oord, Jan de Nul has already been active in land reclamation projects and the construction of artificial islands elsewhere, such as the luxury tourist resort Palm Island 2 in Dubai in 2002.
Belgium may be runner-up
Fordeyn revealed that his company is also planning to participate in a tender for a Belgian energy island, if the nation's government decides to hold such an auction.
The Belgian plans are at an earlier stage than those in Denmark and the project is still undergoing a feasibility study, grid operator Elia told Recharge.
How serious the country's plans are can, however, be gauged by the fact that Belgium's government earlier this year included the development of an energy island in its dossier for the €5.9bn ($6.86bn) Belgian tranche of the EU's post-Covid European Recovery Fund, which was accepted by the European Commission in June.
Belgium would use the energy island to connect a 2.1GW second wave of offshore wind farms in the 'Princess Elisabeth area' (bordering France) and from there transmit power to shore.
Despite its tiny coastline of only 67km, Belgium already has an impressive offshore wind capacity of 2.3GW and currently ranks fifth in the world (after the UK, China, Germany and the Netherlands).
But those turbines also mostly filled up the eastern part of its limited exclusive economic zone (bordering the Netherlands), and the small country needs to find ways to use its sea area most effectively, and can't afford to waste space with multiple offshore substations and grid links.
Netherlands and the UK after 2030?
While Denmark and Belgium look seriously at the energy islands plan, the idea has slipped down the agenda in the Netherlands, at least for now.
The now former Dutch economics and climate minister Eric Wiebes in a 2019 letter to parliament revealed he had been considering the construction of an artificial island to connect the planned 4GW Ijmuiden Ver offshore wind zone in the Dutch part of the North Sea, and ran the idea past external experts.
The minister came to the conclusion that an artificial island at some 80km from shore would actually be some 10% cheaper than connecting the wind zone to the mainland via offshore platforms.
But Wiebes ultimately rejected the island idea as he said it may delay the time-table of a 2030 offshore wind roadmap due to possible hiccups related to complex construction processes, less flexibility in the geographical allocation of future wind farms, possible environmental impacts, and even the risk of the island being used for drug smuggling. Ijmuiden Ver will instead be linked to two super-sized 2GW converter stations, and then to shore via HVDC cables.
Nevertheless, the minister recommended the Dutch follow up the idea of possible artificial energy islands for offshore wind projects after 2030.
And despite being the world's top offshore wind market, the UK seems to have no immediate plans for an own energy island at this point.
Nicola Medalova, managing director at the UK's National Grid, in comments to the New Scientist in early October said the TSO is in "tripartite discussions over an energy island that the UK would likely connect to," but didn't reveal which other parties the company is talking to.
A National Grid press official confirmed Medalova's comments to Recharge, and added: "There are now a number of energy island concepts being promoted by different parties in countries such as in Denmark, Belgium and the Netherlands, and we're in conversations with them all to understand the concepts out there.
"This is at concept stage and while energy islands could be a natural evolution of interconnectors and MPIs [multi purpose interconnectors], it is still at the earliest of stages."
As Denmark has said it is looking at connecting its planned energy island in the North Sea also to the grids of other countries, such ideas would certainly make sense.
Industry experts, however, do not expect the UK to build an energy island of its own in the short term.
"Up to 2030, the UK landscape doesn't currently explicitly see those islands," Orsted UK chief, Duncan Clark, told Recharge, adding the country has its hands full with the recent leasing of more than 7GW of offshore wind capacity in the UK's Round 4, the ScotWind leasing round for another up to 11GW, as well as projects coming through from previous rounds and their extensions and upcoming rounds in the Celtic Sea.
"I could definitely see some interests in islands in UK waters, but in terms of our 2030 trajectory I think the stage is set already with projects that look more like things that we are doing already."
Part of such a vision would involve a more strategic view of marine spatial planning, Clark said.
North Sea Wind Power Hub
An ideal location for one or more artificial islands in the UK's part of the North Sea would be the northeastern end of the Dogger Bank, a shallow area close to the sea border with the Netherlands, Germany and Denmark.
The idea of building one of multiple energy islands at Dogger Bank has been floated for several years now by the North Sea Wind Power Hub (NSWPH) consortium including Denmark's Energinet and Dutch-German TSO TenneT, Dutch gas network operator Gasunie and the Port of Rotterdam.
The group in 2019 said hubs with 10-15GW of offshore wind connected to them were economically feasible.
With the Brexit-engulfed UK last year having difficulties committing to massive new links to EU countries, TenneT chief Manon van Beek, said the Netherlands, Germany and Denmark should ramp up their cross-border cooperation and kick-start a giant 12GW energy island alone to be built in the next decade.
"I would look forward to a first concrete project in the North Sea [in the early 2030s], which could be a 12GW hub, with somewhere around 6GW connected to Germany, 4GW – just to kick it off – to the Netherlands, and an additional 2GW to Denmark," van Beek said, adding that in planning terms "2030 is tomorrow."
This is one of a series of special articles from Recharge in the run-up to COP26 in Glasgow. See the others below.