Italian start-up Enapter says its unique anion-exchange membrane (AEM) electrolyser technology will produce green hydrogen for a lower price than the alkaline and proton-exchange membrane (PEM) machines currently dominating the market — because its equipment is made with lower-cost materials, has lower operating costs and is also more energy efficient.
Hydrogen: hype, hope and the hard truths around its role in the energy transition
Will hydrogen be the skeleton key to unlock a carbon-neutral world? Subscribe to Accelerate Hydrogen, powered by Recharge and Upstream, and get the market insight you need for this rapidly evolving global market.
The company, which was set up in 2017, is so confident in its technology that it has set itself a "big hairy audacious goal… to be responsible for 10% of global hydrogen generation capacity by 2050".
Thomas Chrometzka, Enapter's chief of strategy, tells Recharge that the AEM technology takes the best of both worlds from alkaline and PEM electrolysers — the cheap materials of the former and the latter's ability to work efficiently with the changeable output from wind and solar plants.
"We're basically taking the efficient cell set-up [of a PEM] to produce hydrogen in a compressed yet highly pure manner, but we can do it with very cheap material costs, which we usually only know from alkaline technology. So it's bit of a blend.
"In our case, our membrane is conducting anions [ie, negatively charged ions] and the PEM would conduct protons [ie, positively charged ions]."
Chrometzka explains that Enapter expects its 1MW AEM electrolyser to cost $500/kW when produced at scale in 2025 — compared to $800/kW for a same-sized PEM unit.
Most of the cost savings will come from the two most expensive parts of an electrolyser — the power supply unit, and the bipolar plates, which house the electrolyte and separate the cells in a stack.
As PEM electrolysers use a highly acidic electrolyte, the bipolar plates require expensive titanium to protect the stack and avoid corrosion. Enapter's AEM machine, however, uses a 1% alkaline solution of potassium hydroxide (ie, 99% water), so much cheaper steel can be used.
Enapter says its bipolar plates would cost $20/kW in a 1MW electrolyser in 2025, compared to $190/kW for a PEM machine.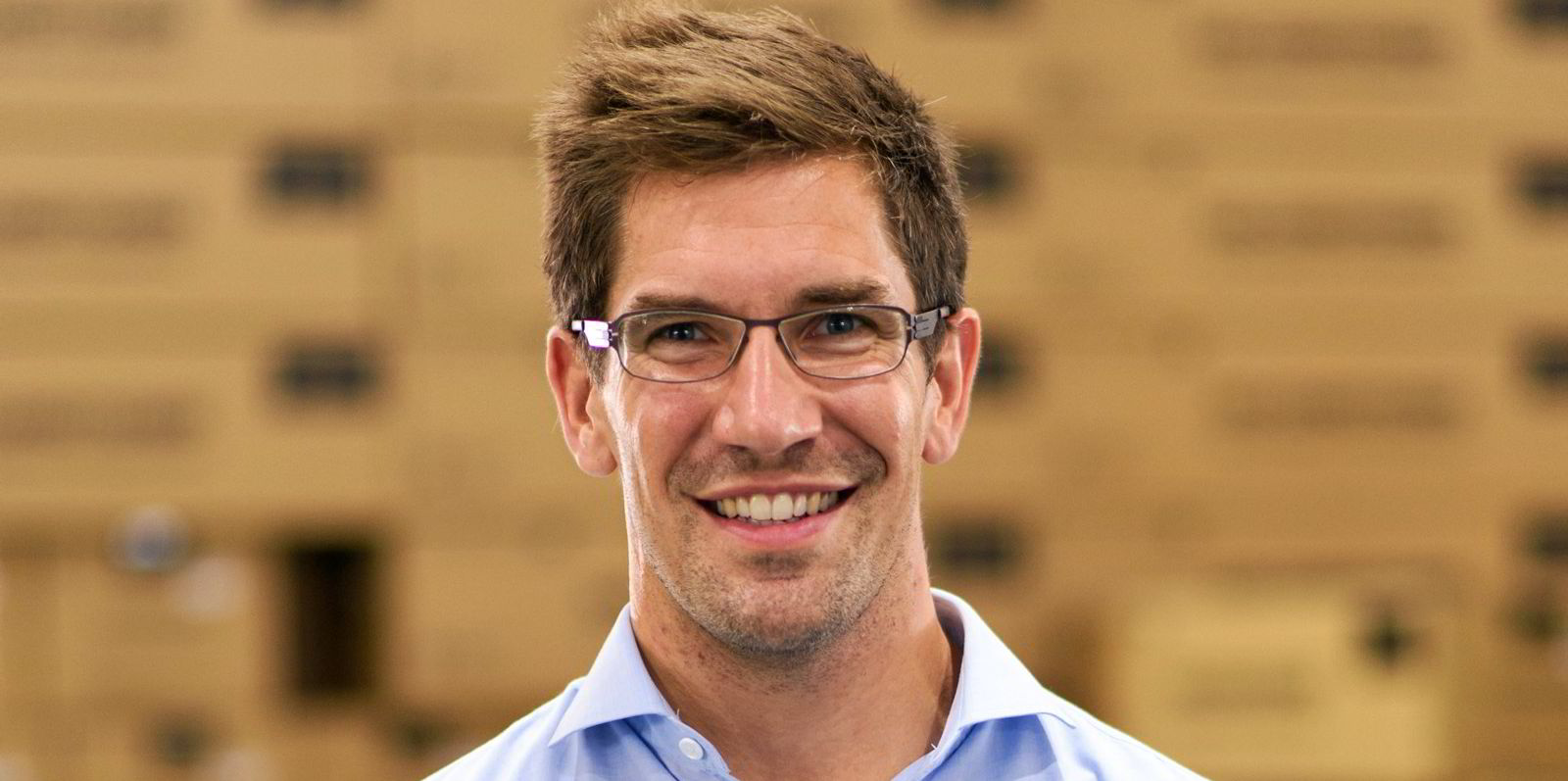 Similarly, the Pisa-headquartered company believes its power supply units will cost $80/kW, compared to $220/kW in a PEM.
This cost saving is largely due to Enapter taking a novel approach to electrolyser commercialisation.
Rather than producing a 1MW or 5MW electrolysis unit, as most manufacturers are doing, the start-up plans to mass-produce small 2.4kW electrolyser stacks. So a 1MW electrolyser would require 420 stacks.
"We looked into economic history and asked, 'what has yielded the fastest results on cost reductions?' We saw that this was mass-produceable standardized commodities," says Chrometzka, pointing to the example of data centres using hundreds or thousands of computer hard drives, and solar farms made up of thousands of polysilicon panels.
"So our approach is to go in with a standardised product and then stack it up very cleverly, instead of building always-larger electrolyser units. Through this approach, we think the economies of scale are higher."
The German explains that by using multiple small stacks, Enapter can "borrow" power equipment already used in the PV and battery sectors.
"This is inherently cheaper than developing custom MW-scale power units, as is often the case with larger PEM stacks," says Chrometzka. "In addition to this, we also use many more of such standardised units, and prices scale significantly with unit numbers. Where our competitors might be sourcing hundreds or thousands [of power-supply units], we are looking at hundreds of thousands and millions."
He also points out that AEM technology does not require the highly expensive iridium or platinum used as a catalyst in alkaline and PEM electrolysers, although he concedes that the amounts used in those are so small that this is only a minor advantage compared to the cost savings from the power supply units and removing titanium.
"We cannot see how a PEM electrolyser can ever be cheaper than an AEM electrolyser," he tells Recharge.
Chrometzka adds that while AEM and alkaline electrolysers are both built using similar low-cost materials, AEM is a simpler system that requires less material, and it does not require post-production purification of the hydrogen.
Enapter's technology also has an advantage in terms of energy efficiency, the company says, claiming that it requires 54.8kWh of electricity to produce 1kg of hydrogen, compared to an average of 56.7kWh for PEM and 55.3kWh for alkaline electrolysers.
Enapter's scale-up plans
At the moment, Enapter is only producing 2.5MW of electrolysers per year at its facility in Pisa, Italy, but it is developing a new fully automated manufacturing facility in Saerbeck, northwest Germany — which is due to break ground in September. This plant is due to have an annual capacity of 300MW, once up and running in 2023, with the potential for massive expansion.
Technology breakthrough
AEM technology has long been talked about as a potential solution for clean hydrogen, but it has proved difficult to commercialise until now.
According to the Green Hydrogen Cost Reduction report released by the International Renewable Energy Agency last year, "the AEM membrane has chemical and mechanical stability problems, leading to unstable lifetime profiles. Moreover, performance is not as yet as good as expected, mostly due to low AEM conductivity, poor electrode architectures and slow catalyst kinetics".
But the report did concede that "limited information about their long-term operation, reliability and robustness is available".
Enapter says there are no doubts over the reliability and effectiveness of its machines.
The company explains that its AEM electrolyser stacks will have a lifetime of at least 35,000 hours, compared to an average of 40,000 for PEM and 80,000 for alkaline.
But it adds: "For lack of better data available we conservatively put the expected lifetime of the AEM Multicore stacks at 35,000 hours. However, in our test stands we are seeing results that suggest that the life expectancy for the stack could go well over 70,000."
Chrometzka tells Recharge: "Enapter is a young company — we started in 2017 — so we cannot yet point to real data from the field that shows our machines running for ten years because we've only been around for three. But there's no reason why our [machines'] lifetime would be shorter than PEM electrolysers."
"This is already close to a gigawatt factory, because we can work in more shifts and accommodate more lines," says Chrometzka. "So the goal is that, at that location by 2025, we're probably looking at 3-5GW of potential [annual] production capacity."
The Frankfurt Stock Exchange-listed company — which is majority-owned by its Thailand-based German founder and CEO, Sebastian-Justus Schmidt, a self-made software millionaire — is currently working on a strategy to raise the funds needed for the expansion.
But Chrometzka has no doubts about Enapter's future.
"We're convinced that AEM is the future of electrolysis, and that we can make the cheapest hydrogen. So we're super bullish on our technology."
AEM competition
Enapter holds many patents on its technology, but it does not have an exclusive right to produce AEM electrolysers.
Other start-ups, such as Israel's Hydrolite and Canada's Ionomr Innovations, are also working on AEM electrolysis technology.
But Enapter is confident that its AEM technology can beat any competitors.
"Anybody can build an electrolyser and use an AEM membrane," says Chrometzka. "But, for example, what they cannot do is use an AEM membrane with a dry cathode, which produces the very pure and dry hydrogen right from the stack, because we have protected that with a very strong patent.
"You could produce it with a wet cathode, and then you would need to clean your hydrogen, which would maybe just add that amount of cost to it that we don't have to pay."
He adds: "We're the clear leader in AEM technology and we want to maintain that position."